Editor's Note: Reader in Residence at Orkney Library and Archive, Alison Miller, discusses the life of the Orkney writer George Mackay Brown. Listen to three short stories by George Mackay Brown from 28 April 2013.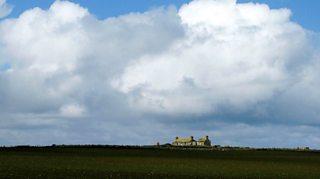 Westray - Orkney. Photo by Kirsteen Cameron.
"It is the word, blossoming as legend, poem, story, secret, that holds a community together and gives a meaning to its life." George Mackay Brown, An Orkney Tapestry, 1969
The earliest settlers here in the islands left a myriad of prehistoric monuments scattered all over, telling us that Orkney lay at the heart of the neolithic world. During Norse rule there were Viking earls, one of whom, Rognvald, built a great red cathedral in Kirkwall to honour his uncle St Magnus.
Hundreds of Orkneymen travelled to the North West of Canada in the eighteenth and nineteenth centuries to sign up with the Hudson's Bay Company. One, John Rae, became a brilliant Arctic explorer, discovering the last part of the North West passage. And in two World Wars, Scapa Flow was vital in the defence of the British Isles.
All this because, as George Mackay Brown wrote, 'Orkney lies athwart a great sea road,' and this position has determined its story throughout the ages. It was a rich inheritance for a man who hated travelling himself, who preferred to stay in his rocking chair and set forth only on mind voyages.
Extract from The Wireless Set, a short story by George Mackay Brown read by Claire Knight.
A familiar figure round his native Stromness, the Hamnavoe of his stories, George would walk dreamily along the street that 'uncoiled like a rope' and absorb the old secrets and legends. Every morning after breakfast he would clear away crumbs, move the marmalade aside and settle down at his table with pad and biro to write. It was this discipline that saved his life, for in his youth, devastated by the news that he had TB, he sought solace in drink. No-one expected much of him then.
But he turned his life around and became known and loved the world over for his poetry and novels as well as short stories. And if he didn't travel himself, his words brought many travellers to his door. Among them was the distinguished composer, Peter Maxwell Davis, who with others inaugurated the St Magnus Festival held every year at midsummer in Orkney.
Many years ago, home from university for Christmas, I caught a bus to Maeshowe, the 5000 year old burial chamber in the heart of neolithic Orkney. You have to crouch low to get inside. As I straightened up and grew accustomed to the dimness, I realised there were other folk there. One was George Mackay Brown. He wrote:
"I suppose it only happens once in a decade — a clear south-west horizon on the afternoon of the winter solstice ... The sun made a cloudless descent. The interior of the chamber was full of crepuscular whispering figures. Then the sunset flowered on the stone — the last beam of light of the shortest day — and it glowed briefly on a wall that at every other time of the year is dark."
Somehow the man that walked among us wove the story of Orkney for us all and cast it abroad into the world.
Listen to George Mackay Brown Stories 
Alison Miller: Reader in Residence at Orkney Library and Archive