Editor's note: In Thursday's programme Melvyn Bragg and his guests discussed Spartacus. As always the programme is available to listen to online or to download and keep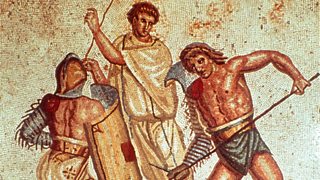 Hello,
As we were doing Spartacus this morning, Tom Morris, the producer, was spotting tweets coming in, many of which said "I'm Spartacus". For those of you who don't know, this was a scene towards the end of Stanley Kubrick's film when all Kirk Douglas's gladiatorial comrades adopted his name to protect him, and I suppose to put themselves in the same boat.  Anyway, it seems to have caught on with tweeters UK. Pity we hadn't time to mention the ballet by Khachaturian.
I think this is going to be a bits and pieces (who wrote that song?) newsletter.
Mary Beard told me after the programme that Crassus (he who said that no man can count himself rich unless he can afford a private army), the one who finally defeated Spartacus, had taken on the Parthians and himself been defeated. His head was severed and later used as a prop in a performance of The Bacchae at the Parthian court. A story like that is what I think, perhaps many of us think, classical historians are for.
The business of gladiators being killed in the arena and a great flurry of thumbs down going on seems to be ill-founded. Put simply, gladiators were very expensive. They were an investment. Their owners did not like them to be killed and therefore, of course, as privileged, rich and wealthy owners do, they fixed things so that they got what they wanted. So in the end gladiators were as much for show as for dead meat.
There was a discussion about whether Spartacus's wife could possibly have spent time with him in the gladiatorial school, i.e. lived with him. She certainly seems to have been there when he was bought as a gladiator in the first place.
Curious how we seem to like men fighting each other or lions, bare-topped, shouted on by crowds. But it wasn't long ago that much the same thing happened around these parts, is it? Crowds at hangings, crowds at bear fights, crowds at executions, women knitting as the guillotine fell. How much would it take for it to come back?
So, out in the fresh air for a walk on this third consecutive, beautiful, false spring day in London. Into St James's Park with carpets of daffodils and rugs of crocuses and silver birches looking white and bare.  The usual crowd of excited photographers around a single squirrel. Is this the last squirrel in the wild in St James's Park?
The Lords were discussing the contribution of women to the economy, and I had lunch with one of my oldest friends and ate a ham hock terrine, which rests in my stomach like one of those old-fashioned leather footballs we used to play with and it hurt your foot to kick it.
Off to the Lake District for the Words by the Water literary festival and then off to interview Kate Atkinson.  Life's on.
Best wishes
Melvyn Bragg
Download this episode to keep from the In Our Time podcast page
Follow Radio 4 on Twitter and Facebook
The BBC is not responsible for the content of external websites