Miriam Margolyes' Adventures in Radio: "on radio….you can be anyone…."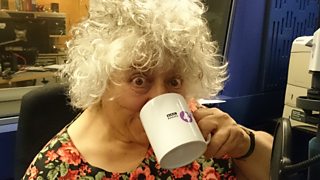 Miriam enjoys a Radio 4 Extra cuppa
Editor's note: Much-loved actress Miriam Margolyes looks back over her radio lives, choosing some of her favourite performances from the BBC Radio Archive in Miriam Margolyes' Adventures in Radio.

On a sunny Friday morning, Miriam Margolyes was waiting patiently for me in BBC Broadcasting House Reception. Smiling broadly she mentions briefly that she's just been having a natter with the film director, Ken Loach. Now this might seem a classic celebrity name dropping situation. But as I found with Miriam, quite wonderfully, what you see and hear is what you get. You see, Miriam had known Ken Loach for years, because he had lodged in her parents' house when they were young. And surprisingly that is now quite a long time ago. Miriam turned 75 in May this year.
I've always thought of Miriam Margolyes as an irresistible force of nature – scaring her nephew Edmund Blackadder as the puritanical Lady Whiteadder. Her recent sofa surfing riot of an appearance on BBC TV's Graham Norton Show indicates she has no sign of stopping. She seems forever just to be 'Miriam', forever young, or as she rather self-deprecatingly tells Arthur Smith in Sentimental Journey, on Radio 4 in 1999, she's always been the same, she hasn't changed, she's always been able to play 'an old bag'. Her journey to discover her family's roots in Belarus in Sentimental Journey, is her first programme choice in her Adventures in Radio.
It never occurred to me to ask someone else to interview Miriam, it felt right to let Miriam run the whole show. There's a risk of hubris in inviting a performer to talk about themselves – with legendary tales of artists that selected all their own songs on Desert Island Discs - but even though she's won a BAFTA, Miriam's on record as ranking her own stage acting career to be a disaster (Front Row, Radio 4, 2011), with many regrets. But when it comes to radio, as she tells us on Radio 4 Extra, it's the place she 'loves', where she's been 'the bravest' in her career choices, the place she 'feels most at home'.
Miriam feels being asked to revisit her radio career is a 'wicked indulgence', but she's always been quite partial to a little of that... For my part, I wanted to invite her to cast her sharp intelligence over her own performances, and examine what makes radio magical. For Miriam, on radio, "you can be anyone, age or size is no barrier". And lo and behold in the BBC archive we found Miriam performing back in 1964, then only 23 (a struggling actress, selling encyclopaedias door to door after graduating from Cambridge University), playing an elderly women. She plays the 'Old Gal', in one of her very first BBC radio appearances in BBC Third Programme adaptation of FC Ball's A Breath of Fresh Air.
Looking over her 50 years on BBC radio and counting, Miriam recalls meeting and working with some of the 'great ladies of radio', including Marjorie Westbury, who played Steve, the effortlessly elegant partner to amateur detective Paul Temple on BBC Radio in the 50s and 60s. She remembers working with a host of comedy greats, from Ted Ray to Ken Dodd and Kenneth Williams. We get to hear her risk taking as she stars in Olwen Wymark's The Child (Radio 4, 1979) which explores mental health issues. We also get to hear, for the first time since 1993, Miriam's award winning reading of Sue Townsend's sparkling satire about the House of Windsor finding itself rather down on its luck, in The Queen and I (BBC Radio 4, 1992). And her memorable battle of wits with Timothy West, in Anthony Horowtiz's [Foyle's War] tense two-hander, The Picnic, set in Soviet Russia in 1981.
Before she came into Broadcasting House, I visited Miriam during her post-operative rehabilitation at her south London home, to talk about what she would like to feature. She was a delightful host. She asked me whilst I was there, out of the blue, even a little defensively, 'Am I how you expected?'
"No" I said, happily, "you are far more interesting than even you let on, Miriam".
Peter McHugh is the producer of Miriam Margolyes' Adventures in Radio.

Miriam Margolyes' Adventures in Radio on this Saturday at 0900 & 1900 on Radio 4 Extra and on BBC iPlayer for 30 days