Desert Island Discs on mobile: A 70 year radio archive in your pocket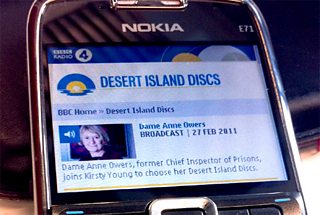 At Radio 4, we've been trying to make the experience of listening to programmes on the internet as comfortable as listening live on a radio set. For far too long, listening online has meant things like retreating to a dark home office where your computer lives, or precariously balancing your laptop on a kitchen table to catch up on The Archers.
You've been able to listen on the move with our ever-growing set of podcasts, but that normally requires you to transfer files from a computer to a gadget.
So, we're delighted that we can now offer the huge Desert Island Discs archive to listen in an easier and more portable way: on your mobile phone.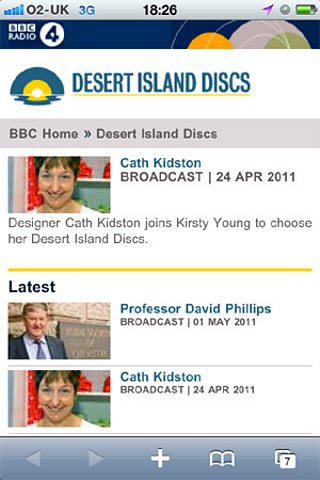 If you haven't visited the
Desert Island Discs archive
on your computer yet, it's a new website that lets you see thousands of public figures' eight record choices, from
Ivor Novello in the 1940s
right up to
Cath Kidston's recent appearance
and beyond.
You can listen to more than 500 programmes (as podcasts if you prefer) and can even search for particular types of people: all the politicians who have appeared on the programme, all the novelists or just comedians.
We're hearing, from your comments on Twitter and Facebook, that once you start exploring the website it becomes very addictive, and that's what we have been aiming for!
There's something particularly magical about exploring the archive on your phone, however. All that history - pardon the cliché - in the palm of your hand! Whether you're at home, waiting for a bus or relaxing in the long-awaited spring sunshine, you can listen to the full interview* with one of your favourite public figures - Kathy Burke, Rolf Harris, Sir David Frost...
To use the mobile version of the Desert Island Discs archive, you'll need a phone with a web browser and reasonably large screen. It's compatible with almost all "smartphones" (to be technical, it works on Android, Blackberry, iPhone and N-series Nokia devices among many others). Just open the web browser on your phone, and use this address: http://www.bbc.co.uk/radio4/desertislanddiscs
I hope you enjoy it!
David Jones is a senior producer, Audio & Music Interactive, BBC Radio 4
James Simcock, the executive producer for DID on mobile adds:
"As the BBC works hard to embrace the explosion in mobile internet use, some gems such as Desert Island Discs really come into their own. The enforced simplicity of making something work smoothly across a variety of mobile screens is no bad thing and in this instance, it's the breadth of outstanding audio content that is bought to the fore.
As David explains in his post, you no longer need to be confined to any particular space or context to explore these archives - just make sure your battery is well-charged, as it's seriously addictive listening. And a tip for Android users: Long-click to access option to 'download' rather than 'play' file for listening when offline."