Editor's Note: Robert Forrest is a three-time Sony award winning dramatist and playwright, his most recent adaptation for Radio is The Exorcist which will be in two parts on Thursday 20th February and Friday 21st February 2014 at 11pm.

My most revered author? James Joyce.
Favourite novel by another author? Lolita.
So why have I been fascinated, for decades, by a populist, sensational horror story by a writer who, whatever his remarkable gifts as a storyteller, is not a master of the English language?
I think The Exorcist affected some people in a way that went beyond horror or suspense or even engrossing storytelling. This other level is touched on in various ways in my version. I'll give two examples. A hypnotherapist, who attempts to treat Regan, the possessed girl, develops an aversion to meeting people's eyes. Father Karras, the anguished, doubting, guilt-ridden priest at the heart of the story, says he can no longer counsel other priests on questions of faith; he cannot even meet their eye. And maybe that's the source of the disquiet the novel engendered in some of us: what might lie behind anyone's eyes?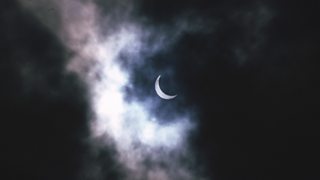 I have said that Karras is at the heart of the matter. (But we must never forget Regan, an innocent 12 year old girl who may be possessed by a demon or insane; either way she's in hell.) Karras is the true, if not the official, exorcist. One of my first decisions was to tell the story almost entirely from his point of view. (More than half of the original novel has passed before Karras even learns of Regan's existence.) One reason for that decision is that Karras may be seen as the demon's real target. (Regan – worthless, disposable – is a means to an end.)
The demon's purpose is to destroy faith – and not primarily a priest's faith in God; our faith in our own humanity must be destroyed. Also, the scenes in the novel that I found most compelling and disturbing were those in which Karras and the teasing, mocking, subtle demon converse and joust. I always wanted more of those scenes. Now I had the chance to have devilish fun and create my own.
One development I always hope for when working on a dramatisation is that I begin to hear the book's characters speak in my head; then they become my characters. Unfortunately, or fortunately, when I began work on The Exorcist the first voice in my head was that of the demon. I had that sneering, merciless creature whispering in my ear constantly – for months. This was frightening and exhausting; it was also exhilarating. 

There were times when the demon's attack on other characters – and on humanity in general – was especially fierce, that I felt the dangerous thrill of being on its side.When the script was done I was almost superstitiously glad to be rid of all the books about possession, demonism and mental aberrance that had littered my desk for so long. But I'll be forever grateful for the chance to wrestle with that decades-old, baffling fascination with this novel – and to confront some of my own demons. 

Father Merrin, the experienced and wise old official exorcist, says that the only defence we have against demonic attack is our faith. Karras says the best of our saving graces are courage and compassion. 

Faith – or courage and compassion? I'm not sure I can chose between them.
The BBC is not responsible for the content of external websites.