'Taught, yelled at, encouraged and licked into shape': A childhood at the BBC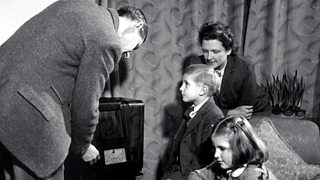 Family around a wireless
It was something - being on the wireless in the days when there was no television, no mobile phones. The Brownies or choir practice tried to keep the young entertained after school. Going to the bad didn't seem to be an option so the young stayed home like everyone else and listened to the radio. Fabulous radio. And, most of the time, it was enough.
I couldn't quite believe it when I found myself ON the radio, and for terror and elation few things have matched those childhood years working for the Welsh Home Service. Even at its most relaxed and un-live, radio is a "hot' medium. Live radio is like flying too close to the sun.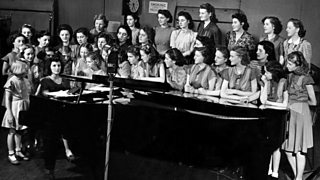 Waiting for my small turn, I watched, as real grown up actresses, all beautifully turned out (stocking seams straight, make-up and hair spruced up specially for transmission) began to weave their way in and out of their places at the microphone. They were concentrated, controlled, elegant even, but I knew that they were silently humming like dynamos, ready on the turn of a page to erupt like volcanoes.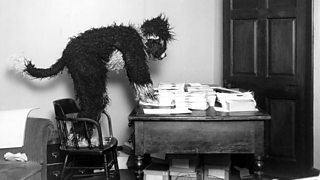 The puppy in Children's Hour. Children's Hour was broadcast from 1922 to 1964.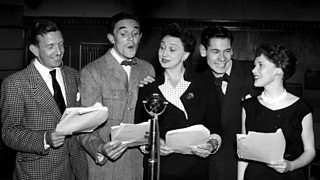 (l-r) Willie Joss, Jimmy Logan, Madeleine Christie, Stanley Baxter, Sheila Prentice.
It'll never be me I thought, despairing. My first star turn on Children's Hour, playing an obnoxious tom cat, had left me dishevelled, wild eyed and breathless... I watched and watched and nothing they did, good or bad, escaped my attention. I was equally transfixed by the nonchalant expertise of the engineers and studio managers.
While I was taught, yelled at, encouraged and generally licked into some sort of shape by the directors, I was indulged by the studio staff and allowed into their glory hole of an office as they figured out their spot effects and after a few years and after a lot of coaxing and practicing (and keeping well out of sight of the director's window onto the studio floor) I was allowed to take part in a spectacular, horse driven coach crash. My contribution, involving two coconut shells, a couple of nuts and bolts, a chain and a handful of tin tacks went out live on Saturday Night Theatre. I must have done a bit of acting but I only remember giving my all to the coconut shells. Whew.
What price Hedda Gabler?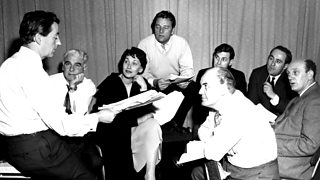 Sian Phillips in a radio drama for Welsh Service 1958.