In Our Time: Le Morte d'Arthur
Editor's note: In Thursday's programme Melvyn Bragg and his guests discussed Le Morte d'Arthur. As always the programme is available to listen to online or to download and keep - AI.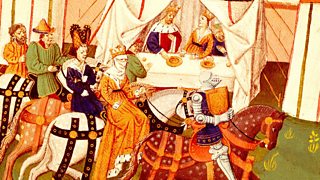 Le Morte d'Arthur (for In Our Time)
Hello
I want to start off with an apology to Helen Cooper - or rather Professor Helen Cooper.  When she described Malory as a 'thug' with such emphasis I was taken aback by the vehemence of the word emanating from the mouth of such an elegant and decisive professor of medieval literature at Cambridge. 
I also thought that some of the things she said had been contradicted in the notes (perhaps not hers) which I'd read.  Yes, he was accused of rustling cattle - but this was a war zone in the Wars of the Roses and leaders of small packs of armies had to find food for their men.
He was accused of taking plate and silver from a monastery.   Yes, but there was a radical movement at the time which believed that the Church should have no wealth - there was none of that in the Bible - and there's no record of anybody being killed in this raid. 
The charge of rape was of course serious but, again in the notes of one of the contributors to the programme, rape was often an accusation brought by a husband who had lost his wife to someone else in order to cover up the fact that she had just gone and left him.   So there's room for manoeuvre there.
Helen elegantly let my objection pass, but after the programme said, with exemplary firmness, that he was a very bad man.  When they gave the equivalent of a General Pardon at the time of the Wars of the Roses he was the only person in England not pardoned, and nobody would take him into their household afterwards.  She also pointed out in the programme that there was very little relationship between the behaviour of someone in life and their performance in art. 
So I think that could be called a comprehensive routing. 
At the moment I'm driving through the countryside in Gloucestershire with Anna Cox, who's the producer of a programme I'm doing on William Tyndale - not very far away from Malory. In fact Malory was published in 1485 and Tyndale was born just a few years later.  I'm beginning to lead a joined-up life.  This is a film for BBC 2 and we are going back to the man's origins here among the then-thriving merchants and farmers of the wool trade which in some ways sustained his radical life - his short radical life - while he was abroad.
It's a return to where I was only a week ago when I came down here to interview Alfie Boe for a South Bank Show.  He is moving down to the Cotswolds, and as we turned into the Cotswolds after Burford I had a serious feeling that I was entering a completely different country.  It was more foreign than anywhere abroad I've been over the last few months - i.e. Germany, Holland, Belgium, France - here were complete uninterrupted villages, here was antiquity still living, here were village greens, and even the moss had moss on top of it.  Churches whose bells would toll only now and then for the occasional death, because people live forever in these villages.  It is a very strange experience living in this area.
And then I saw a sign pointing to Chipping Norton.   Well, there you go.  (Should I not have said that?  I hope you keep it in).
So off we go to a farm where Tyndale's  brothers farmed and tomorrow we'll be attempting to record the opening statement of his radicalism where he confronted Bishops - he as a young man, they as soi-disant learned clerics whom he demolished at dinner.
I hope you had a good Christmas and New Year.   I went North with the family, the far North to which we've been returning for the last 42 years.  It was foul weather - King Lear would have recognised it - it was full of 'blow, winds, and crack your cheeks'.  But there was a silver lining.  That  was lying in bed listening to a hurricane-strength wind booming in the trees nearby, whacking against the house with a sound that I would love to make into a record and knowing - that if the Cumbrian stone held - we were all safe and sound inside.
The Xmas decorations are still up in Regent St.
Best wishes
Melvyn Bragg
Download this episode to keep from the In Our Time website
Visit the In Our Time website                                                                                                                   Follow Radio 4 on Twitter and Facebook