Feedback: Discussing Reflections with Lord Peter Hennessy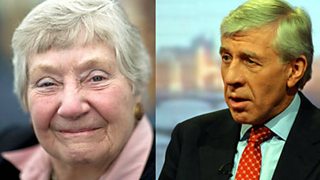 Baroness Shirley Williams and Jack Straw
This week in Feedback I talked to the historian and journalist, Lord Peter Hennessy, about his new series 'Reflections', broadcast on Radio 4 at 9am on Thursdays.
Most of our correspondents loved the two episodes which have been transmitted so far, one with Baroness Shirley Williams, and the other with Jack Straw, but others thought the whole thing too cosy, with its references to Roy (Jenkins), Jim (Callaghan) and Harold (Wilson), and with the peers calling each other Shirley and Peter.
As I am about the same age as Peter Hennessy, and produced political programmes when his interviewees were in their heyday, I was fascinated. I understood the references to the Labour civil wars of the late 1970s and early 80s, as I went (as a producer) to the conferences where blood was spilt and 'brothers and sisters' were knifed in the front as well as the back. Figures like Peter Shore and Barbara Castle are still vivid in my memory, but they must be obscure politicians to younger listeners, rather as Hugh Dalton was a bit of a mystery to me.
Was Peter Hennessy too soft on his subjects? Well I guess the answer depends on whether, by using  a more gentle approach, he got things out of his guests which an aggressive frontal assault would not have done.
However I think there are significant differences between retrospective interviews like these, in which the facts are well known, and contemporary interviews where they are not, and the presenter is trying to find out what happened. Of course, in the former case, the interviewee may still try to put the best possible interpretation on past events, hoping to affect how history is written. However, in these retrospective cases, the fog of battle has largely lifted. Interpretation is involved rather than revelation.
It obviously helps that Peter Hennessy is greatly respected and well liked; but as he is also an outstanding historian, with impeccable contacts in Whitehall, his guests know better than to try to pull the wool over his eyes. They need to be subtler than that.
Peter Hennessy discusses the art of the political interview with Feedback's Roger Bolton
You may find it strange that, in the week of the publication of the
BBC Annual Report
, neither the Chairman, nor the
Director General
was available to be interviewed on
Feedback
. We also asked the
Director of Radio, Helen Boaden
, to talk to us. She also declined.
As the BBC is committed to accountability and Feedback is perhaps the most high profile programme through which they are supposed to be accountable to their audience, one of them will surely be available to talk to us in the future? Surely?
The BBC is not responsible for the content of external websites