Editor's note: A season of programmes relating to the five Cambridge graduates whose treachery shocked the British establishment - listen to Cambridge Spies from Saturday 25th May 2013.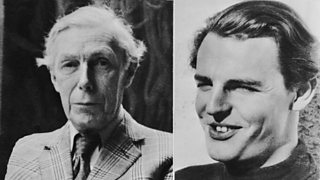 Two of the 'Cambridge Five' - Anthony Blunt & Donald Maclean.
"Cambridge Spies" is in many ways, a misleading title.
George Blake wasn't strictly a part of that particular set. John Profumo certainly had no connection, he was to some extent just unlucky.
Yet the phrase sums up the contradiction at the heart of the matter. As a concept, espionage is always presented as an intrusion. Enemy agents breaching borders, slipping through defences via subterfuge and false identities.
An excerpt from Adventures in the BBC Archive - Stella Rimmington on the Cambridge Spies.
Perhaps what shook this perception was the idea that 1930s Cambridge, the very image of a venerated English institution, could be home to the 'enemy'. More than that, the enemy itself was home grown. Some would say the apparent betrayal by Burgess, Maclean, et al wasn't part of some insidious plan to topple the country. It seemed born of a sincerely-held belief that communist Russia was the best alternative to fascism.
If you're not familiar with the Cambridge Five – Anthony Blunt, Kim Philby, Donald Maclean, Guy Burgess (a confession by 'fifth man' Cairncross came some years later) – then the paradox is even more striking. A group of almost textbook flamboyant, eccentric Englishmen (diplomats, art history professors, even sometime BBC radio producers) who were nonetheless apparently willing to pass information to the Soviet Republic during wartime. It certainly flies in the face of conventional spy imagery.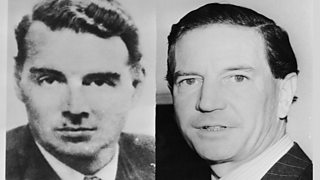 Guy Burgess and Kim Philby
Not that this information would emerge until the following decades. In fact, it was November 1979 before Margaret Thatcher made a clear admission about Anthony Blunt's role. Those who hadn't defected had long since confessed in exchange for diplomatic immunity. A very human reaction. A long way from the steely cold resolve of secret agent cliché.
It's this conflicting, human dimension which we've sought to capture with a season of programmes under that moniker – the Cambridge Spies. It takes in others caught in that uneasy era of revelation (Profumo, Blake) and a variety of styles (features, comedies, dramatized accounts). Hopefully though, it reflects the lack of easy conclusions on offer when it comes to Blunt and company.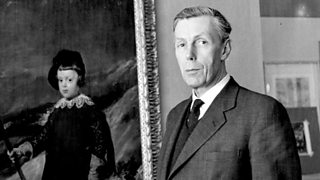 Anthony Blunt
Listen to the Cambridge Spies season:
Sat 25th May - Rebels : Guy Burgess – Spies investigated: Guy Burgess according to people who knew and worked with him, including brother Nigel. From October 1984.
Sat 25th May - An Englishman Abroad – Spies in decline: what did the agent say to the actress? Burgess meets Coral Browne. Stars Michael Gambon and Penelope Wilton.
Sun 26th May - Another Country – Spies in the making: the childhood of young Guy Bennett could well have a major impact on his adulthood. Stars Tom Hiddleston. 
Tue 28th May - Blunt Speaking – Spies reflecting:  Sir Anthony Blunt considers his life and the shame of his exposure. Written and performed by Corin Redgrave.
Wed 29th May - After the Break – Spies unchained: George Blake's daring defection made headlines. But what about life behind the Iron Curtain? Stars Jack Klaff. 
Thur 30th May - The Reunion: Courtauld Institute - Spies revealed: Brian Sewell and other former students discuss the impact Anthony Blunt had on the worlds of art and espionage. 
Thur 30th May - Lost, Stolen or Shredded  - Spies pursued: Rick Gekoski attempts to track down diaries and effects of Kim Philby. Are they as elusive as their former owner?
Friday 31st May - The Archive Hour – Spies examined: ex-head of MI5 Stella Rimmington explains the long-term impact on her own life of Burgess, Maclean and others.  
Fri 31st May - Radio Active : Probe Round the Back – Spies parodied: The team's investigators are on the trail of the 'Fifth Man'. Starring Angus Deayton. From September 1987.  
Saturday 1st June - Iron Curtain Call – Spies lampooned: how else would you commemorate Burgess, Maclean and team but with an all-singing, all-dancing spectacular?