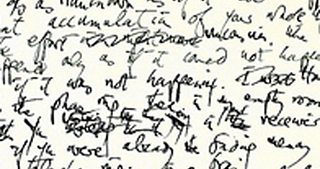 Editor's note: Radio 4's new Controller has been in the job for three weeks. Her second blog post concerns the party conferences, poetry and anagrams - SB.
The End of the Affair - I mean the party conference season. The Today Programme's set of leader interviews was unmissable. Ingredients: take four fresh, untried would-be leaders with relatively unknown views, facial expressions and speech patterns. Mix boldly with seasoned, piquant Today programme presenters.
Shake rigorously and sprinkle with chilli, cinnamon, nutmeg and chocolate (the bitter, dark sort - never sweet) and there you had it... four revelatory dishes served hot to the Radio 4 audience in our breakfast programme. Oh - and each followed by a tasting at the refined political palate of our discerning political editor. This is a time when politics and the changing shape of the state will be central to our coverage on Radio 4 and we will be looking for original programme ideas to track and interpret the future.
I was thrilled by the Ted Hughes poem unearthed by our own Melvyn Bragg in his guest-edited edition of The New Statesman.
Wole Soyinka sent me an original poem as a gift to broadcast when I started at the World Service. It was called 'A Moment of Peace' and I include it here as a treat for anyone who cares to listen. We are brilliant at analysis and critique but it is hard to beat the real thing- and a poem on radio... well, it fits:
My Radio 4 aside of the week is David Mitchell in Unbelievable Truths, which featured on Pick Of The Week. A brilliant sequence on rain ended with a statement that there are no anagrams in rain... "Iran" said David in a nano-drop, "Move on."
Gwyneth Williams is Controller of BBC Radio 4