In Our Time - Robert Boyle
Editor's note: In Thursday's programme Melvyn Bragg and his guests discussed Robert Boyle. As always the programme is available to listen online or to download and keep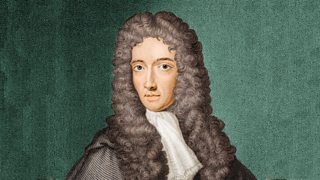 Hello
There was a substratum of extra pleasure in this morning's programme for me. Robert Boyle cascaded into Oxford in the 1650s and was snapped up by the Warden of Wadham College – Wilkins. As it happens, I went to Wadham College about 300 years later to read history. When I was there I didn't take much notice of what had been happening in the gardens 300 years ago. The gardens were splendid enough for the present. There was a totally magnificent, listed copper oak in the corner of one of the gardens. As big as a dome. Unfortunately, it got the tree equivalent of total dry rot and wet rot and had to be chopped down. I rescued a small log. There were also little boxed-in areas where we could do plays and plenty of benches to sit on and pretend we were being studious, when we were just dopily gazing around at the trees and the honeyed walls and feeling – Good God, I'm in Oxford!
That was many moons ago. But I went back to make a film and do a radio programme when I was doing something about the beginnings of modern science, and it wasn't difficult to imagine Christopher Wren and Wilkins and Hooke and Willis and Boyle himself in the gardens, making observations, putting up eccentric inventions, and to a certain extent self-consciously – but moved by the zeitgeist – coalescing into a group which would become the Royal Society in 1660.
I went on after the programme with Simon Schaffer to do what will become another series, produced by James Cook who used to produce In Our Time. It's to do with the history of ideas, and we did what began as a pilot but ended up as a transmittable programme, just down the road at a studio the BBC hires for some of these occasions. Meanwhile, Tom Morris, our producer, went off to Lord's to see the Test.  So far, so very characteristic!
It's been one of those good weeks. Last night there was the first night of Romeo and Juliet (Prokofiev) with Tamara Rojo and Carlos Acosta in the Albert Hall. It is strange to see such an intimate ballet produced in a space as big as a piazza in Siena. But there it was and the dancing of those two, and indeed of all the main characters, was extraordinary. But let's stick to those two. Tamara Rojo and Carlos Acosta were dancing this for a very short season and for the last time, and that gave it a sense of history, in its own way as resonant as the idea of Robert Boyle and Christopher Wren and Wilkins and Hooke being round the corner, behind the chapel in Wadham College gardens.
And roving the streets and going to a studio to do an interview about Dennis Potter for Radio 3, and trying to think how I'd answer a very generous letter from a listener in Israel about the Talmud. And wandering through London down to the Lords on a sunny afternoon. It's not the Lakes, but it's not nothing. Trafalgar Square seized in a polyglot way which would have been unimaginable just a generation ago. I miss the pigeons. I have very good photographs of my children when small, crouched, with cupped hands holding a few pigeon beans, and the pigeons delicately pecking away. But I suppose progress is sometimes cleaning up the store. Down past Downing Street. The Ukrainian flags, only three of them now, leaning disconsolately against the railings. There were many more in recent weeks and great chants used to go up. I'm always impressed and rather touched that people from almost every country in the world think that by standing across the road from 10 Downing Street and shouting they can convey a message to the Prime Minister. I mean it. I am indeed impressed. Impressed for them and impressed for us.
And so tonight to a wrap party. We've just about finished making three series for Sky Arts, and tonight we will resort to a cheap and cheerful restaurant nearby and toast each other's health and programme-making prosperity.
Best wishes
Melvyn Bragg
PS: Just walked through Trafalgar Square. The Brazilians have taken over. There was a bandstand and they were tuning up there. Tents selling various Brazilian delicacies and goodies. Tons of people in the yellow strip of Brazil, no less prominent for the fact that the London security chaps are wearing yellow jerkins. They'll all mix in together before the night's over. Compared with when I first came here, London is so wonderfully unbuttoned and all the better for it.
Download this episode to keep from the In Our Time podcast page
Follow Radio 4 on Twitter and Facebook
The BBC is not responsible for the content of external websites