The Rivals: The Return of Inspector Lestrade
Editor's note: The Rivals, starring the often forgotten Arthur Conan Doyle creation Inspector Lestrade, starts on Radio 4 this Wednesday 19 October at 11.30am - PM.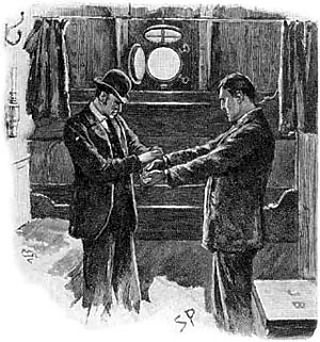 The idea for
The Rivals
came about when writer Chris Harrald expressed a desire to dramatise a series of re-vamped Victorian detective stories for Radio 4.
He argued that although Conan Doyle dominated the canon, there were plenty of great short stories out there that featured extraordinary sleuths. His research revealed a treasure trove of material, and he set about assembling a collection of stories that would be enjoyed by an audience familiar with the originals and surprise those new to them.
At this stage we hadn't yet figured out a way of linking these stories together - a way to encourage listeners to stay with a series across a number of episodes.
That was the remaining challenge.
We both felt that an important criteria was the personality of the detective in each short story. They should all have the potential to be rivals of Sherlock Holmes. We began by selecting a story that predates Sherlock Holmes by over forty years.
Most historians of the genre argue that Auguste Dupin in Edgar Allan Poe's The Murders In The Rue Morgue represents the first detective in fiction and is the literary prototype for Conan Doyle's hero.
He certainly has eccentricity that would give Holmes a run for his money. We also looked at a short story by Jacques Futrelle, an American writer who perished onboard the Titanic. His story features Professor Augustus SFX Van Dusen, an individual so gifted with intelligence that he is able to think his way out of a locked prison cell.
Again, we felt that he was a natural rival to Sherlock Holmes.
Chris had the idea of using this sense of rivalry to connect a number of stories.
That's when he hit upon the idea of giving Inspector Lestrade a unifying role. The Scotland Yard detective is in many ways the loser in the Sherlock Holmes stories. His reasoning is portrayed as commonplace. Dr Watson, the narrator of the Holmes stories, even describes him snootily as "a lean, ferret-like man, furtive and sly-looking".
With this sort of insult levelled at him, perhaps he would enjoy promoting other, lesser-known detectives? Perhaps it would be a good way of deflating Sherlock Holmes' considerable reputation?
In discovering Lestrade, we had found a way of connecting a number of classic short stories. We catch up with him as he is being pursued by a young journalist intent on interviewing him about Sherlock Holmes. He refuses to answer her questions, instead introducing her to one of Holmes' many rivals. From this point, we jump into the original story, and we have even adapted them in such a way as to give the Inspector an important role in each mystery.
At last, he's been given a chance to rehabilitate his reputation.
Sasha Yevtushenko is a producer for BBC Radio Drama in London
The Rivals starts on Radio 4 Wednesday 19 October at 11.30am. You can hear it shortly afterwards on the Radio 4 website.
James Fleet plays the Inspector, and he introduces a new 'rival' each week: Auguste Dupin (played by Andrew Scott); Professor SFX Van Dusen (Paul Rhys); Paul Beck (Anton Lesser); and Loveday Brooke (Honeysuckle Weeks).
The illustration's original caption was "He held out his hands quietly" from the Strand magazine and is by Sidney Paget (1860-1908) via Wikimedia Commons.