In Our Time: Alfred Russel Wallace
Editor's note: In Thursday's programme Melvyn Bragg and his guests discussed Alfred Russel Wallace. As always the programme is available to listen to online or to download and keep.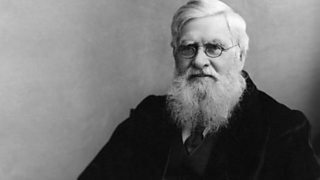 Alfred Russel Wallace
Hello

Sometimes you have to think about the value of a university. Shakespeare didn't go to university and he seems to have been stimulated rather than depressed by the goading he got from the university wits. Dickens went to no university, neither did Nelson and neither did this morning's hero, Wallace.  Perhaps there's something in not getting your intellectual helping at the right time that powers you to a fiercer longing (if you are an exceptional person to begin with, that is) for knowledge. Certainly Wallace must have one of the most idiosyncratic routes to fame and to the intellectual heights of anyone.

I have no idea how he could have recovered from losing four years' work in a fire in the middle of the Atlantic Ocean.  He almost lost his life.  Ten days on an open boat, with the skin burnt off his face, before he and a few others, who had survived on a few ship's biscuits and a little water, were picked up.  He reminds me of Malcolm Lowry and the conflagration of the first draft of his novel 'Under the Volcano'.  How do they pick themselves up, dust themselves down and start all over again?
Wallace's humanity is as striking as his scholarship. He truly did see everyone as equally valuable, and that must have been a psychological underpinning as well as an intellectual confirmation of his views on the development of the human race. As was his attachment to the orangutan, which appears to have been not sickly and not sentimental but properly affectionate. He was a socialist from quite an early age and a feminist and head of the Land Nationalisation League, thinking that property ought to be in the hands of everyone. He was also a spiritualist in his later life and was taken in by tawdry little tricks with Ouija boards and all that malarkey.
How strange it is that that can coincide with his eureka revelations about the environment.
Otherwise it's been a strange week. I seem to have jiggered my knee and most of my thigh while in the bowels of Herodian near Bethlehem, walking up very uneven steps in the caves which were used as hideouts and storage places. Whatever it was, there are stabs of pain here and there which make it awkward to walk as much as I want to and impossible to walk as fast as I like to. Just as well that all I find in London now are dug-up streets and diversions and edging past lots of little red and white dunces caps.
An old friend of mine, whom I first met when we were eighteen on my first day at university, and his wife, who is Polish, took us to a Polish restaurant in South Kensington, once the heart of the Poles who escaped from the Nazis at the end of the Thirties.  20% of the great RAF force which fought the Battle of Britain was Polish and the Polish Club is near that restaurant. The great thing was that it is still very Polish.  At the end we were given small glasses of icy Polish vodka, a drink I can't remember having had for years and years. It was totally delicious.
The Royal Television Society had its annual prize-giving beano (28 of them). The South Bank Show got into the last three for the Arts Award and did not win, despite the film by Archie Powell on Grime, about the young black men and women in Bow in East London who had reinvented a sort of music for themselves, and after ten years in small flats and tiny studios swept to the top of the charts. It's always annoying to get to the last three out of hundreds and to turn up under starter's orders in a black tie and not to win.
And so it went on. Lunch with one of my daughters today. It's great to have adult children. I know all the growing up bits can be good, but the thing about having adult children is that it can always be good.
So, hobbling back through Soho, dodgy knee and all, lucky to have such a life and looking forward to an Easter in the Northern fells – at least for two or three days.
Best wishes
Melvyn Bragg
Download this episode to keep from the In Our Time podcast page
Visit the In Our Time website