Radio 4 Extra: Responding to your feedback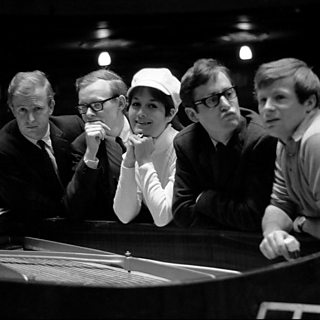 Hello again,
I've been reading your comments and feedback on the blog and elsewhere and wanted to respond to some of the points that people have made. I commented last week on the blog and Streetlight2 has identified some of the other things many of you are asking about so I've based my answers around them:
The presenters on 4Extra - what's the thinking behind changing them from the R7 team?
Now that Radio 4 Extra is aligned with Radio 4, the presentation teams are working together. Some of the Radio 4 presenters were keen to work on Radio 4 Extra, which is very different from reading the news on Radio 4! Of course Jim Lee, a stalwart of Radio 7/4Extra, has worked on both networks for over 8 years and Alan Smith, who was with Radio 7 in the early days, is now back with us again. Former Radio 7 presenters will have the occasional presence on 4Extra; in fact you can hear Helen Aitken in a couple of weeks interviewing a comedy troupe performing a Sherlock Holmes spoof.
All of the presenters have other work of course, both on radio and television, and fans of Alex Riley can see him popping up regularly on BBC Three.
What about the lack of drama programming?
The drama remit for Radio 7 was originally to broadcast a minimum of 50 hours per week. As Radio 4 Extra, we committed to a minimum of 55 hours of drama per week, and we actually broadcast more than that. You might be surprised to know that on Radio 4Extra, we broadcast on average of 68 hours per week, including of course the 24-hour overnight repeats.
As Head of Programmes launching Radio 7 over 8 years ago, and faced with a blank sheet of paper, I was keen to schedule longer drama on the archive station, and introduced two 90 minute plays at weekends, plus a 75-minute Woman's Hour archive omnibus on Sundays. The omnibus has been popular, and to build on that we have introduced a second 75 minute omnibus on Saturdays, made up of the previous week's Radio 4 Woman's Hour serial. With adding some new elements to the schedule, we stopped broadcasting the 90 minute drama on Sundays, but brought in the 60 minute children's/family drama slot, commissioning 8 new dramas in the process.
But of course, radio stations evolve and as with any radio station we will continue to review our output.
On Radio 4 Extra I was also keen to retain the 60 minute dramas, daily from Monday to Friday, plus the daily 45 minute dramas. These have included Fortunes of War, Howard's End and Ben Hur, three terrific and substantial dramas, plus currently for Easter, the landmark Dorothy L Sayer's production, The Man Who Would be King, in twelve 45 minute episodes. We have had good feedback on these productions, and are planning to follow-up with the Complete Smiley dramatisations, beginning in May.
The 7th Dimension and Crime and Thriller hours have remained the same, with the 1.00am repeat of the Crime and Thriller Hour being re-instated for the night owls from the week beginning 16 May.
Complaints about broadcasting The Archers, Ambridge Extra and Desert Island Discs. If some of these programs are available on Radio 4, then why put them on Radio 4 Extra?
Following the research and consultation we undertook, the BBC Trust wanted to ensure that there wouldn't be too many changes in the re-branding and in fact 85% of the Radio 4 Extra schedule has remained unchanged.
The Archers and Desert Island Discs are very popular strands, so we decided to build on these strengths to attract Radio 4 listeners (many of whom were/are unaware of the existence of Radio 7).
Regarding The Archers, we considered some archive programming, but with some missing programmes this would be difficult to sustain; we also felt that a repeat of the omnibus was not quite right, so the decision was made to commission a short, new Archers serial - Ambridge Extra. This will be running until the end of June, followed by a summer break.
I was interested to note that in the most recent podcast chart, Ambridge Extra came in at number 2 - just behind Adam and Joe.
When I started Radio 7, archive Desert Island Discs was on my shopping list, and I was keen to group the DID programmes in batches featuring The Comedians, The Actors, The Musicians etc. I have always thought that listeners would value the opportunity to hear archive editions of DID and the launch of 4Extra provides this as does the new DID website, updating information on the castaway, linking into the schedule when possible. For example, we began with children's authors, and when Jacqueline Wilson was last week's castaway, we broadcast one of her readings on the 4 0'Clock Show.
We will be following up with The Authors and The Comedians.
Any change to a network can be difficult to accept, and when the idea was initially mooted to change Radio 7, I admit I had my reservations.
Like some listeners, I was concerned that the station might become too serious.
However, I truly believe that there are many benefits in being so closely aligned with Radio 4. Some fresh ideas have been introduced, but at the same time I feel that we have managed to retain the entertainment essence that launched Radio 7 eight years ago - we continue to bring you great radio comedy and drama.
It would be impossible to please all of our listeners all of the time, but I hope that all of you manage to find entertaining programmes to listen to on Radio 4 Extra most of the time,
Best wishes
Mary
Mary Kalemkerian is Head of Programmes at BBC Radio 4 Extra
The photograph is from the BBC picture library. The caption reads "Picture shows (l-r) Tim Brooke-Taylor, Graeme Garden, Jo Kendall, David Hatch and Bill Oddie, five young comedians from the world-travelled 'Footlights Revue' Cambridge Circus, who star in the new comedy revue series I'm Sorry, I'll Read That Again, which begins in the BBC Light Programme on Monday 4th October, 1965."