In Our Time - Weber's The Protestant Ethic
Editor's note: In Thursday's programme Melvyn Bragg and his guests discussed Weber's The Protestant Ethic. As always the programme is available to listen to online or to download and keep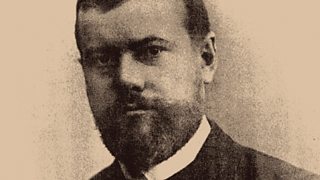 Hello,
After a bracing fifteen minutes with Farming Today, I look forward to who is going to be introducing the Today programme.  When it's John (Humphrys), with whom for reasons deep in mystery I seem to have formed a special relationship (rather like that between the USA and the UK), I have to think of something that will somehow tease out a laugh. There are not many laughs in the works of Max Weber. So it was quite a long haul between six o'clock and about ten past seven before I thought of a way of doing it. Then when I came in, I road-tested it on the keen, cutting mind of Tom Morris and I got the green flag. So then came the delivery, which could have been a disaster this morning because I scribbled the last bit in my own handwriting (not very legible at the best of times), and in the rehearsal read "this morning's hangover" instead of "this morning's handover". It got a laugh from the control panel in the rehearsal, but those actions are impossible to repeat unless you're an actor.
All three contributors this morning were first-timers, but you couldn't tell, could you? Partly because they are so accomplished at talking about their own subject, and partly, I think, they know the programme and sail in, well prepared for the attempt to put quarts into thimbles.
After that, back north to the dentist. Not much fun. The instruments they use are okay, given that they regard your teeth as a sort of quarry. It's the noises the instruments make that are more than a little worrying. At one stage there was the suggestion of a small anaesthetic. Easy to turn down. Fifteen seconds or twenty seconds of pain is a snip compared with walking around feeling as if you have a wad of bubble on your gum for the rest of the day.
Then I walked into town which took about an hour and a half. What a great walk. Down into Primrose Hill, over Primrose Hill itself, looking across the city full of mists, and then into Regent's Park, for which I get more affection the more I walk in it. Even when the gardens are out of flower they still have an English magnificence about them. Then down the full length of an extremely busy Regent Street and into the best bargain brasserie and most stylish restaurant room in London. Lunch with a friend of mine whom I met on my first day at university. Been friends ever since and have these regular, non-agenda lunches.
Then up to the cutting rooms to watch the beginning of some short films we're making, and then … I can feel Ingrid's impatience.
Best wishes
Melvyn Bragg
Download this episode to keep from the In Our Time podcast page
Follow Radio 4 on Twitter and Facebook
The BBC is not responsible for the content of external websites