In Our Time - Hildegard of Bingen
Editor's note: In Thursday's programme Melvyn Bragg and his guests discussed Hildegard of Bingen. As always the programme is available to listen online or to download and keep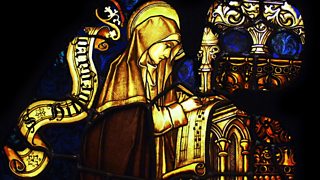 Hello
After the programme Miri Rubin spoke about pseudo-Hildegardian material running through into the late Middle Ages and being an inspiration to the Lollards. The Lollards were those who took on the first full English translation of the Bible by Wycliffe at the end of the 14th century, and at great risk to their lives (many of them were caught, tortured and sometimes executed) took copies around the country. There was a dark side to Hildegard which may have been because of a certain political naivety. She preached against the Cathars, heretics who were murderously slaughtered by their fellow Catholics in the First Crusade. According to our guests, she was manipulated by the Archbishop of Cologne and was really preaching against aspects of Catholicism, but it included enough to be used as justification for the torching of the Cathars.
Miri asked William Flynn if he still sang from Hildegard's music during his lectures on her work. He does. I believe tickets are scarce.
And out and about in London over the past few days. Wonderful June weather. Blazing June. Good to have a cliché come to life.
Over the weekend the Provost of Worcester College, Jonathan Bate, invited me to their tercentenary dinner. It was not so much Brideshead Revisited as Brideshead in aspic. It was quite astonishing. Beautiful singing in the chapel. Then into the rose garden for drinks. Then into the great Dining Hall for a feast. Then out again to refresh ourselves. Then back in the Dining Hall with places newly positioned for more of a feast and speeches. Then out into the still-light streets of Oxford where students seemed to be en fete and all of them carried teddy bears.
St James's Park is now occupied completely, every blade of grass covered by the recumbent body of an apparently content schoolchild on a trip. The deckchairs are empty. It must be the most used park per acre on the planet and it still retains its great beauty. Gardeners of the world deserve all the praise that is handed to them.
Up to Stoke to talk at the first Stoke Literary Festival run by Emma Bridgewater, who has bought this enormous factory in the middle of Stoke and is gradually turning it into her workshop and shop and a new enterprise. It is a magnificent Victorian building and every bit as good a setting for a literary festival as, say, Wellington College, where at the invitation of the headmaster, Anthony Seldon, I turned up to talk about the King James Bible. They have an educational/literary festival there every year.  What magnificent buildings, grounds, facilities, open spaces, mown grass, tents, etc. Wellington College and Worcester College, Oxford and then Stoke are a tale of three cities. But that's more of what people would call an old-fashioned novel than part of a newsletter.
So on we go. Maurice Saatchi is bringing a Bill into the Lords tomorrow morning to make positive steps to improve the treatment of cancer. He has devoted so much time and energy to this since his wife, the poet and novelist Josephine Hart, died of cancer a few years ago.
I'm getting out of the office now to spend half an hour in the sun. This week is probably our summer.
Best wishes
Melvyn Bragg
PS: Last night I chaired a debate at the Jewish Cultural Centre in Hampstead. The subject was who is the greater romantic hero, Rochester or Darcy? I called for a vote at the end (I know it was naff but the audience didn't object). Darcy won. About three to one. Partly, I think, because halfway through the debate Fay Weldon switched sides. She had advocated Rochester and then she read aloud some of the things that Rochester said and it changed her mind!
Download this episode to keep from the In Our Time podcast page
Follow Radio 4 on Twitter and Facebook
The BBC is not responsible for the content of external websites