That Was The Lunch That Was: Remembering David Frost
Forgive your enemies, but never forget their names.
JOHN F KENNEDY
I was 11 when David Frost shot to fame in 1962 as the host of TW3. Well into my 20s he was the person I aspired to be and we were friends for almost 30 years.
I was stunned and appalled when I heard he'd died. Exactly one week from that day, we had been due to meet for lunch – a regular treat I looked forward to so much that 'Lunch: David Frost' entries had a kind of glow in my diary.
If David had any enemies, I never met them, but he certainly never forgot their names – because one of his many remarkable talents was the he never forgot anyone's names. Except once. As I was leaving one of his wonderful giant summer garden parties, crammed with rock stars and cabinet ministers – all of them equally flattered to be asked and goggling like children at their fellow guests – David stopped me by the gate. It was late in the evening and we'd all had a little too much white wine. 'John Lloyd, Comedy Genius!' exclaimed Sir David, much to my embarrassment, 'Meet King!' I peered through the gathering dusk. 'King…' he repeated, wavering a little. I racked my brains for who it might be. Larry King? King Crimson?  Neither. The smiling man in the dove-grey suit was King Constantine of Greece.
The Museum of Curiosity: David Frost reveals how small talk helped him break the ice with Richard Nixon
David's most noteworthy characteristic was that he was absolutely impossible to dislike. The word 'charming' is an inadequate word for him here, because it implies some artifice or guile. His secret was that everybody liked him, because he so obviously liked them. And I mean everybody. At one of our lunches, David was waxing lyrical about somebody he was particularly fond of and I rather boldly said 'Well, David, that doesn't say much. You like everyone. Is there, in fact, anyone you don't like?' He looked a bit discomfited, thought for a good long while, munched on a bread roll, and then said: 'Er… well… I've gone off Henry Kissinger…'
Optimistic, positive and relentlessly cheerful, David's charisma came from the fact that he made everyone around him feel better. Not just the famous and powerful, but his adorable wife Carina and the three tall sons he was so proud of, his fiercely loyal staff, the lady who did his make up, a sound man he would probably never meet again. He was just invariably, relentlessly, unnecessarily nice.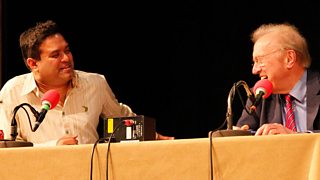 Paul Sinha and David Frost
When he spoke to you he hung on your every word, genuinely interested in what you had to say. This made him an invincible interviewer – whether on television in front of hundreds of millions of people, or eating smoked salmon and scrambled eggs a deux in the Carlton Tower. Many's the time, on the way to lunch, I mumbled to myself 'Must remember not to tell David about that deal with Central' and then, even as I was pulling out my chair to sit down, saying; 'David, we've just done a fantastic deal with Central…'
In his last ever recording on The Museum of Curiosity, he was on top form – funny, fascinating, full of insight – it's impossible to believe that someone so full of life is gone.
As he himself so often, so warmly said to so many other people when saying goodbye: 'God bless you, David!'
Listen to David Frost's last appearance on The Museum of Curiosity
See David Frost's life in pictures