Charm offensive? Nick Clegg on Desert Island Discs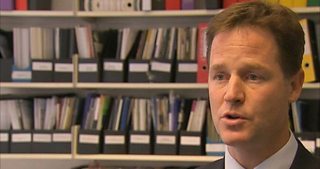 http://www.bbc.co.uk/programmes/b006slnx
In Feedback this week we discussed the deputy Prime Minister Nick Clegg but listeners weren't concerned about what he said on Desert island Discs about his inability to give up smoking, or where he took his girlfriends in the days before he met his wife.
No, our correspondents were concerned about whether he should have been on Desert Island Discs at all so soon after the Government had announced big cuts in benefits.
They wondered if his appearance was part of a Government PR campaign to show the warm human side of our leaders who have had to take such tough decisions. Eyebrows were also raised about a storyline in The Archers which seems to fit nicely with a Government drive to get more people online. Paranoia or intelligent scepticism? What do you think?
I talked to the Editor of Desert Island discs Alice Feinstein about that invitation to Nick Clegg:
Roger Bolton is presenter of Feedback
Listen again to this week's Feedback, produced by Karen Pirie, get in touch with Feedback, find out how to join the listener panel or subscribe to the podcast on the Feedback web page.
Listen to Nick Clegg's Desert Island Discs appearance on the Radio 4 web site.
Feedback is now on Twitter. Follow @BBCFeedback.