Armistead Maupin on Tales of the City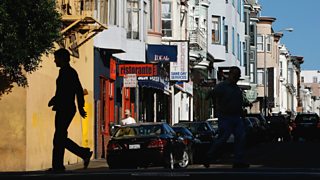 North Beach, San Francisco - the eclectic neighbourhood in which Tales of the City is set.
"Tales of the City," my long-running saga of San Francisco life, has been blessed with a number of incarnations in the 37 years of its existence.  It began as a newspaper serial in the San Francisco Chronicle, published five days a week come hell or high water, despite my utter ignorance as to where the story was heading.  I relied largely on a reckless imagination and the random misadventures of youth - the bars and baths, the joys and heartbreak - and, increasingly, on anecdotes offered by the readers themselves, the ones who dissected the serial every morning before work at the office water cooler (to me, there's no greater indicator of a writer's acceptance by readers than the moment he's told:  "You should write about me.") 
If the finished product seems more premeditated than that - and I hope it does – it's because I had a shot at rewriting 'Tales' when the serial became a novel in 1978.  Rearranging is perhaps a better word, since I remember this largely as a physical act.  My brand-new buddy Rock Hudson – yes, that one – had lent me his Palm Springs ranch house for purposes of writing, so I spent the better part of a week shuffling the chapters on his living floor until the skeins of the plot struck me as properly woven. Then, like most writers, I returned to the writing itself, pruning and polishing until it looked as if I'd always intended to get where I had gotten.
"Tales of City" has so far unfolded in eight novels, the most recent of which is "Mary Ann in Autumn," published in 2009.  ("The Days of Anna Madrigal" is coming in 2013.)  There was even a musical version of the first two books produced in San Francisco in 2011 with music by John Garden and Jake Shears of Scissor Sisters. The global reach of this story about a San Francisco apartment house is attributable to a number of British factors.  Patrick Janson-Smith, then with Transworld Publishing, championed the books and stuck by them in their floundering early days until they caught the eye of Chatto & Windus, who published them in two hardcover omnibus editions that were subsequently picked up by my American publishers.  Then, in 1993, Channel Four and Working Title Television produced a wondrously faithful adaptation of "Tales" starring Laura Linney and Olympia Dukakis and directed by the late master filmmaker Alastair Reid.  Many of my readers found - and are still finding - their way to my novels through that great television miniseries.
Until now, "Tales of the City" has never been adapted as a radio play.  How lucky for me that it landed at BBC Radio 4, the UK's venerable spoken word station, where Dickens and DuMaurier (not to mention "Desert Island Discs") are served up elegantly for a discerning audience.  I can trace my good fortune to a balmy night in Perth, Western Australia, when I was seated next to Radio 4 producer Sue Roberts at an open-air literary dinner.   Sue popped the question, I said yes before the soup was served, and she took it from there, securing the talents of the esteemed playwright Bryony Lavery to sort out my serpentine plotlines and a slew of American actors to play the lovelorn denizens of 28 Barbary Lane.   I hope you'll love it as much as I do.
Find out about More Tales of the City on Radio 4 from 4 February
Sign up for the Radio Drama Newsletter to be in the know about Drama on 4