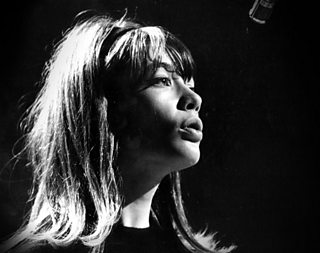 Picture the scene. A girl walks down the street, alone and unloved, while around her loving couples hold hands and gaze into each other's eyes. That was the theme of 'Tous Les Garcons et les Filles de Mon Age', a self-penned melancholic song which in the early 1960s catapulted Françoise Hardy to Europe-wide fame, and achieved something rare: being one of the few French language songs to make the British charts. Globally it sold around two million copies-shifting more records than the legendary Edith Piaf did in eighteen years.
In Britain, Françoise had no shortage of schoolboy admirers. And I was one of them.
She suddenly made learning O and A Level French that much cooler. Hardy stood out from other girl singers of the time on both sides of the Channel. There was no fancy hair style or heavy duty cosmetics. Her hair was long and straight, her make-up minimal. She had a natural, wholesome look that made her the perfect 'girl next door.'
One of the fans I talk to in Falling for Françoise tells the story of a French girl who came to England to stay with a penfriend and turned out to be a dead ringer for Françoise. All his schoolmates made a beeline for her but he got there first. It was the start of a 10-day whirlwind romance that took in such delights as the Droitwich Lido.
But it wasn't just school boys who fancied Françoise. Just about every male rock star was effusive about her too. Mick Jagger called her his 'ideal woman' and David Bowie said that 'for a long time I was passionately in love with her. Every in male the world and a number of females also were.'
One of her most remarkable encounters was with Bob Dylan during his 1966 concert at the Paris Olympia. Dylan, she recalls, was 'in bad shape' and not singing well. In the interval he sent her a message to say he wouldn't complete the concert until she'd come to meet met him in his dressing room. It was an awkward encounter but later that day he gave a her a a private preview of two new songs later to become classics: 'I Want You' and 'Just Like a Woman'.
In a frank and often self-effacing interview, Françoise plays down the adoration and tells me she's always been uncomfortable with fame.
She says that like many of her early fans, she was a shy and anxious child and jokingly suggests it might be to do with the circumstances of her birth. She was born in Paris during an air raid warning in January 1944 when the city was still under Nazi occupation.
Home life was hard. Her father was largely absent. Her mother had to work hard to keep Françoise and her younger sister well fed and clothed On one of her father's rare appearances he gave her a guitar. Soon she was writing her own songs, as many as one a day. Eventually she successfully auditioned for the Vogue label. It was the start of a string of hits which included 'All Over The World' - a regular choice on The BBC Light Programme's Two-Way Family Favourites.
Though now approaching her seventies she looks as stunning as ever, though the long brown hair has given way to a grey, cropped cut.
More than fifty years since her first hit Françoise is still making albums. She's worked with a string of British musicians including Damon Albarn, the late Malcolm McLaren and the young singer/songwriter Ben Christophers.
EMI have signed her up for two more albums but with typical self-doubt she worries whether she can write enough new material to fill them.
This most reluctant of French icons though is sure of one thing. She says she's rarely happier than when curled up in bed with a book by her favourite author, Henry James.
John Andrew is a broadcaster and journalist.