Editors note: Writer Robert McCrum is the presenter of Radio 4's Publishing Lives which returns for a second series on Monday 10th March at 13:45.
My first series of Publishing Lives followed the careers of five great publishers -- John Murray, Harold Macmillan, Penguin's Allen Lane, Geoffrey Faber and George Weidenfeld -- maverick outsiders, brilliant literary impresarios, and wily opportunists,  but all men. As members of the Garrick, or as the formidable barons of the book trade, they reflected a world which, until very recently was clubby, small-c conservative and frankly chauvinist.
 
My producer, Melissa FitzGerald and I knew, as we edited some wonderful audio material into shape, that -- enthralling as all this was turning out to be -- there was another, equally vivid strand of literary life to explore: the role of women in books.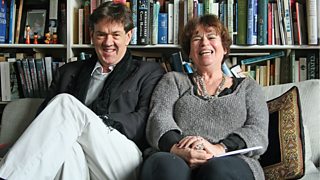 Robert McCrum with Ursula Owen
This new series of Publishing Lives sets out to remedy that omission, and I have to say that Melissa and I are delighted with the strange, and often moving, stories we have discovered. In the process, we have not only paid tribute to some truly
great 20th century women
whose influence on the world of books was decisive, we also describe careers whose experience will resonate with the book world today.

The truth about publishing in Britain has long been that the majority of books published, bought, and read, are first and foremost the special concern of women writers, women editors and booksellers, and of course women readers, up and down the country.

Forget the prophets of doom. This is a golden age of reading. The hungry consumption of the printed word is at an all-time high; at Renaissance levels, in fact. Among new readers, new fiction, above all, has become a women's business. In the 19th century, names like Mary Shelley, Jane Austen, Charlotte and Emily Bronte, and Mary Anne Evans (George Eliot) were the exception not the norm.   The Bronte sisters, indeed, had to masquerade as men  (Currer, Ellis,  and Acton Bell) to attract the attention of their Victorian metropolitan publishers.

Today, however, from Alice Munro, Marilynne Robinson and Lorrie Moore in North America to Kate Atkinson, Pat Barker and Hilary Mantel in the UK, it is women writers who set the gold standard. Once upon  time, the prize formerly known as "Orange" was a lonely (at times, even controversial) pioneer in promoting women writers.  Increasingly, however, in the 21st century, book prizes are becoming almost exclusively about women writers and their works.

So, to look at the literary contributions of several brilliant and fascinating women -- as we do in this new series of Publishing Lives -- -- really is a no-brainer. Three of the women in question (Kaye Webb, Norah Smallwood and Carmen Callil), are principals in their own stories. Two (Livia Gollancz and Lady Helen Hamlyn) are vital witnesses to the achievements of, respectively, a famous father (Victor Gollancz) and a powerful husband (Paul Hamlyn).  In addition to these voices, we also have rare and fascinating contributions from John le Carré (on his memories of Gollancz), A.S. Byatt (on her recollections of Norah Smallwood), and the famous author-illustrator Shirley Hughes on what it was like to work for Puffin's Kaye Webb.
It's also fascinating, through the medium of recorded sound, to rediscover lives that have already become slightly buried in the recent past. There have been so many upheavals in the British book world in the last twenty years (Amazon, Google and the digital revolution; the e-book; global publishing in English, etc.) that it's easy to forget that some extraordinary individuals have left a vivid mark on the literary culture of their times.
Kaye Webb - photo courtesy of Kaye Webb Estate
We start with the amazing force of nature that was
Kaye Webb
, the irrepressible and dynamic promoter of
Puffin Books
during the 1960s and 70s.  Hers was the poignant story of a woman who escaped her own heartache by enriching the lives of a generation of kids.
Norah Smallwood - photo courtesy of Ed Victor


Then we go on to explore the life of Norah Smallwood (coincidentally, my first boss), the Edwardian grande dame of independent publisher Chatto & Windus,  who owed her promotion both to luck (the outbreak of the Second World War) and also to her indomitable drive for literary excellence in the works of Sylvia Townsend Warner, Iris Murdoch, Laurie Lee,  A.S. Byatt and Dirk Bogarde. Norah was rather a dragon in her day, who excited strong opi opinions. Separating gossip from actuality  was, occasionally, quite taxing. In the making of this programme, it was an especially spooky moment for me to listen again to that voice which, when I was twenty-three, could sponsor a unique, occasionally unnerving, combination of awe, panic, and exhilaration.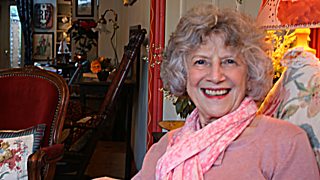 Carmen Callil
Finally, we conclude with a Publishing Lives scoop, a rare BBC radio portrait of the great Australian womens' publisher, and co-founder of the Virago Press, the feisty feminist
Carmen Callil
. This enthralling episode breaks new ground in another way, too. Virago was the triumph of a team effort, a revolutionary cultural collective,  which included Ursula Owen, Lennie Goodings, and Harriet Spicer. For various complex reasons,  these women have, in the past, been disinclined to speak freely of their joint Virago experience. Here, in a mood of mellow reflection, they look back with nostalgia: some fascinating moments.
In this new series of Publishing Lives you can hear the people who transformed the bookshelves in front of you reflect on what it was like to change the world -- with ink and paper, and apple-green paperback books.
Robert McCrum writes for The Observer