Bad drivers and unreliable witnesses - Mind Changers is back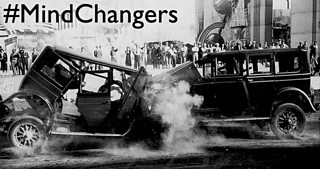 http://www.bbc.co.uk/programmes/b008cy1j
UPDATE: episode one of Mind Changers was postponed because of extended coverage of the events in Egypt. The series will now start on Sunday 20 February with the episode about Walter Mischel's Marshmallow Study and you'll be able to hear the episode discussed here on 17 April - SB.
For someone as obsessed with psychology as me, Mind Changers is a dream series to make. There's just one downside. And that's the driving styles of some eminent psychologists. This is the fifth series of Mind Changers, the programmes which take classic psychological experiments and trace both their history and the impact they have had on modern thinking. The idea came to me back in 2003 and with producer Marya Burgess I've now covered more than twenty landmarks in psychology.
We've deliberately not made the series in chronological order, although if you do listen back to the programmes in order it does provide a potted history of 20th century psychology. Instead we aim to provide contrasting stories within each series. People ask how we choose the studies and I'll confess that it is a personal selection; these are studies which most fascinated me as a psychology student and which have gripping enough stories to keep anyone listening. The producer studied psychology at university too, which means that she really understands these experiments too.
And although a lot of students tweet me about the programmes, they're aimed at anybody who is interested in people, which of course is most of us. You don't have to know anything about psychology to wonder how it's really possible to convince someone that they met Bugs Bunny at Disneyland as a child, when they definitely didn't because he's a character that doesn't appear in Disney films, but belongs to Warner Bros. This study appears in the first programme of the new series which looks at groundbreaking research questioning the reliability of eyewitness testimony in court.
Making these programmes we're discovered that the standard retelling of these studies in textbooks often includes inaccuracies and it's fascinating to see how and why these myths persist. Somehow these experiments begin to take on a new life of their own.
So much of the major work in psychology in the 20th century has taken place in the U.S. that these programmes have taken us on a tour of the Ivy League universities and we're lucky enough to have had the chance to interview some of the most eminent psychologists in the world, so eminent that as a student I'd assumed they must all be long dead.
Our annual trips to the U.S. mean that we're getting to know our way around many a psychology department and starting to remember the locations of the canteens with the best Thai noodles. And this is where the driving comes in. To stay within our budget where possible we go by train or on foot. This horrifies some of the psychologists we interview who have usually booked parking spaces for us, but it's true to say that they are very generous with lifts. So many famous psychologists have lived in the pretty streets on the hills behind Stanford University that when we were making the current series one even took us on the equivalent of the Hollywood movie stars' homes tour, except that these were the greatest psychologists past and present (and for me, I have to admit, just as exciting).
We've learned that psychology professors in the U.S. have very nice cars, often hybrids, but they can have some rather erratic driving styles. One drove me through so many red lights in Philadelphia that in the end I pretended I was very keen to visit a random shop just so that I could get out. "But this is miles from your hotel. I can wait for you," he protested. Then in San Francisco a professor wanted to show us his favourite coffee shop where they did pretty leaf patterns on top of the lattes. This was kind, but sitting in the front passenger seat I noticed cars heading straight for us. "Is this a one-way street?" I asked, trying not to sound rude. "Not you as well!, he said, "People always complain when I drive on the left, but I thought since you're from England you wouldn't mind."
But we've survived all these journeys and we're busy working out which four psychologists to feature in the next series.
Claudia Hammond writes and presents Mind Changers