Feedback: From The Edinburgh Festival 2013
Editor's Note: Roger Bolton discusses this week's Feedback, a special programme from the Edinburgh Festival.
Feedback is available to listen to online or to download and keep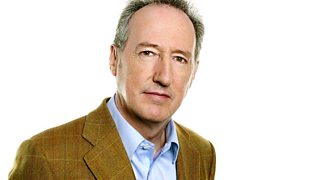 Roger Bolton - presenter of Feedback
In my imagination Edinburgh is always a cold city.
I first came here with my Cumbrian church youth club on Boxing days, when all the shops in England were closed but those in Scotland open. We toiled up the Scott Monument and the Castle Mound, before, almost frostbitten, we returned to the fug of our bus and the romantic ride back home.
Later, when I was a television programme editor and executive, Edinburgh meant the TV Festival, an almost hermetically sealed event where we argued and fought over issues such as the coverage of the Troubles, and dreamed of a far off world where there were more than four TV channels.
The Edinburgh Festival itself largely passed me by until, in the early 80s, I saw Brian Glover in a wonderful National Theatre production of the York Mystery Plays. Glover was a totally convincing God looking down on his sheep from a fork lift truck.
I knew about the Edinburgh Fringe of course, having just about worn out my record of Beyond the Fringe, featuring Peter Cook, Dudley Moore, Alan Bennett and Jonathan Miller, but hardly went to any shows.
This year is different.
BBC radio is here at the Fringe in force, transmitting more than 100 broadcasts over 24 days, for virtually all its networks, and producing shows solely for Edinburgh audiences.
Simon Mayo and Richard Bacon, among others, have done their broadcast shows from here and the News Quiz and the Unbelievable Truth, among other Radio 4 programmes, have recorded editions here.
Why? The answer is the amazing amount of performing and writing talent which descends on this city in august and has plenty of time between shows to appear on the BBC.
Feedback is here because the Fringe is a mecca for comedy, a subject which splits the audience like no other. A good example is Count Arthur Strong, inexplicable to some, hysterical to others.
We recorded this week's programme a couple of hours before its first transmission in front of an audience of around 300 in the Blue tent next to the University, and also using questions from the audience at home.
I hope you like it and laugh at the jokes, most of which were intentional.

Roger Bolton
PS This is the last Feedback of the present run. We return in the autumn, so do tell us what we ought to be covering. You set the agenda, not the BBC.
The BBC is not responsible for content from external websites