In Our Time: The Tale of Sinuhe
Editor's note: In Thursday's programme, Melvyn Bragg and his guests discussed The Tale of Sinuhe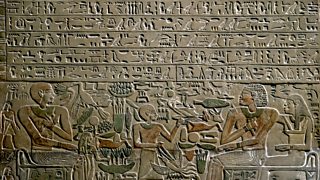 Hello,
If ever proof were needed that fiction is what enables us fully to see ourselves as human, then The Tale of Sinuhe, written before 1800 BC, is proof. The Egypt that, I guess, most of us know is formal, monolithic, stiff, unbending, impenetrable, full of curiosities, but the last thing it produced was individual human beings. Or so we thought. We were wrong. This tale would find its place into any prize shortlist today and probably win most of the prizes. The Egyptian civilisation, which as an empire lasted about two and a half thousand years, and as an influence lasted about three and a half thousand years, is quite extraordinary and wonderful, with remains that still amaze us and secrets that still elude us.
But this one tale, coming out, as we were told by the three contributors, in a period of literary intensity, in a culture which was as widely based in its way as ours is now, changed my view completely. These were people who quarrelled, got jealous, panicked, betrayed their families, were taken up by strangers in a Good Samaritan way in the middle of the desert, fought battles pre-David and Goliath, etc, etc. I got interested in Egyptian history when I was about 21 or 22, more than fifty years ago, and I've been in the place and looked around and read about it, but this has drawn a curtain and revealed that – why should we not have realised this? – they were very like ourselves.
So after that, off for a bit of a busy day in the office where we did business, and then I spoke to some charming young people from Liverpool University making a film to mark an anniversary in the university life of that great city. From there to Tate Britain to talk to Nicholas Serota about David Hockney for the new series I'm doing called South Bank Originals. Then to meet Jane Ferguson of The Observer for lunch, and on to interviews for the preparation for the big press launch (as we hope!) for the new South Bank Show season.
The life of an independent is feast or famine, and at the moment myself and a few of us in about the smallest independent company in London are setting up the next year or two in the next day or two.
Prof Richard Parkinson reads part of the ancient Egyptian poem, The Tale of Sinuhe.
But the highlight of the day was certainly Professor Parkinson reading that couplet in Ancient Egyptian. I wish he'd read more, but he'd made up his mind to read those two lines and that was that. At least he read them for a second time. And then there was one more line at the end of the programme. There was something about the words which took you directly back into the heart of the pyramids (already the major ones built by about 1800 BC). I looked at the copy of the scroll he'd brought and to me the script looked like early Hebrew. Or is it more accurate to say that Hebrew was almost the language of the Egyptians?
Anyway, there we were, back in Thebes, with the ceremonies and the sun god Ra, and all the immense formalities we see in some of the greatest sculptures ever made and the most dramatic works of art ever constructed, and people were shrieking with joy because their father had come back from exile.
Best wishes
Melvyn Bragg
Download this episode to keep from the In Our Time podcast page
Follow Radio 4 on Twitter and Facebook

The BBC is not responsible for the content of external websites