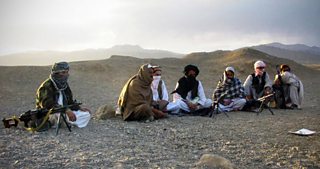 http://www.bbc.co.uk/programmes/b00tmtqc
We'd like you to join tomorrow's Radio 4 debate about the outcome of the war in Afghanistan. Host Eddie Mair is heading over to Chatham House to record the programme after he's finished on PM this evening, for transmission at 2000 tomorrow. We'll be opening the discussion here on the blog half an hour before transmission at 1930 and producers Hugh Levinson and Jo Mathys will be on-hand to host the debate.
There are two ways to join in: either tweet using the hashtag #TalibanDebate or type your comment directly into the live chat here on the blog. We'll publish as many of your messages as we can during the debate and the live chat will be archived permanently after it finishes.
Steve Bowbrick is editor of the Radio 4 blog
Listen to the debate on Radio 4 FM (92 - 95), DAB, digital TV or on the Radio 4 web site at 2000 on 8 September 2010.
The picture shows Taliban in Afghanistan. It's from the BBC News web site.