Edgar Wallace: The Man Who Wrote Too Much?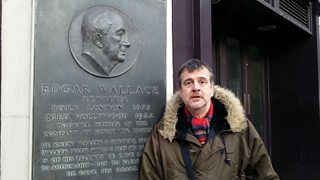 Mark Billingham on Ludgate Hill, at the top of Fleet Street in London.
It's such a strange feeling walking down a street that you have known in your imagination all of your life. Fleet Street in London is like that. Somewhere that instantly conjures images of newspaper inked pages, and the sounds of printing presses and typewriters in smoky rooms.
As I walked along with crime writer Mark Billingham, even with all the newspapers now gone, the street's architecture is still quite magical. Along one side there are cobbled alleyways threading down to the ancient Inns of Courts. In other places the buildings loom over you as you approach the Royal Courts of Justice. Mark says that in the 1920s the street was a crime nexus. It was the British Empire's beating heart of criminal gossip that fed the journalism, and bestselling thriller writing career, of the star of this Saturday's 4 Extra archive showcase: Edgar Wallace: The Man Who Wrote Too Much?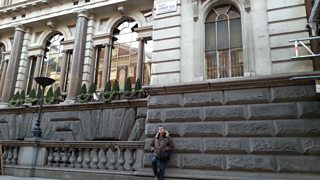 Mark Billingham on the sometimes imposing Fleet Street.
Edgar Wallace's (1875-1932) life seems the stuff of fiction. Adopted by a Billingsgate fish porter in London, and largely self-educated, he was the newspaper boy who became one of the most famous writers in the world. He sold millions of books, but he was plagued by debts. He left Britain for the United States in 1931, only to die in Hollywood in 1932, aged 56, after writing the original story for King Kong. His body was returned by ocean liner in honour, only to be reunited with an ocean of outstanding bills.
Mark wanted to investigate why a crime writer, whose publisher declared him the 'King of Thrillers', a celebrity superstar whose books sold in their millions, seems to be fading from memory today. Even during his own prolific lifetime Wallace experienced literary snobbery, despite his incredible success. Mark's search was a London journey. The city was Wallace's criminal muse. On its streets Mark tracked down some experts that could help with the Wallace mystery, like biographer Neil Clark (Stranger Than Fiction: The Life of Edgar Wallace, The History Press). There's no Edgar Wallace museum, so Mark and Neil met at the next best thing, the Edgar Wallace pub, just of Fleet Street.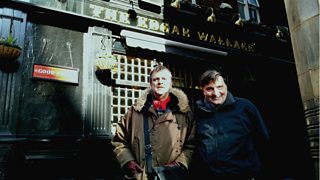 Mark Billingham and Edgar Wallace biographer Neil Clark, outside the Edgar Wallace pub in London, renamed in 1976 one year after Wallace's centenary.
From the BBC archive we hear some of Wallace best creations, including sleuthing in The Mind of Mr JG Reeder (Radio 7 2007), and comedy in the racing tips of Educated Evans (Radio 4 1996) starring Roy Hudd. We also hear from Edgar's daughter Penelope Wallace (who sadly died in 1997), talking about her father's storytelling abilities. And at the British Library's Sound Archive Mark meets Dr Stacy Gillis, teacher of detective fiction at Newcastle University, who is fascinated by Wallace's ability to promote himself. Remarkably we can hear Wallace doing just that, in 1928 recording, reading his story The Man in the Ditch.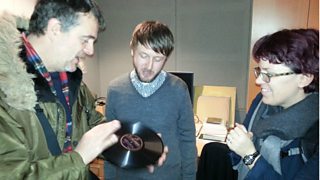 Mark Billingham, Tom Ruane (British Library Sound Archive) and Dr Stacy Gillis (Newcastle University) at the British Library Sound Archive with the 1928 record of Edgar Wallace.
The final part of Mark's odyssey sees him arrive at Portland Place, very close to BBC Broadcasting House, where Wallace brought his family, and servants, to live for a time. The house is now part of the Chinese Embassy. On the pavement outside is where Mark met Professor David Glover, from Southampton University author of Wallace's entry in the Oxford Dictionary of National Biography. When we arrived David was clutching something precious too him, a still brilliantly yellow 1927 edition of an Edgar Wallace classic novel. David Glover's thoughts on Wallace's career, and the fate of most popular fiction writers, serve as prelude to the final archive treat: a 1951 BBC radio version of one of Wallace's biggest successes, a tale of murder and vigilante revenge, The Ringer (1926).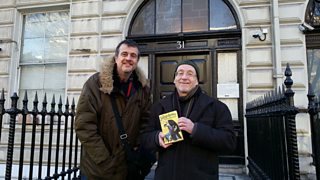 Mark Billingham and Professor David Glover (Southampton University) with his original 1927 edition of Edgar Wallace's The Strange Countess, on Portland Place, in London.
At one point Mark Billingham asks one of our Wallace experts: "with my heart thumping, is this the fate of the popular thriller author, to largely fade from view and memory?" For a moment I thought Edgar Wallace was in the room with us.
Peter McHugh is the producer of Radio 4 Extra's Edgar Wallace: The Man Who Wrote Too Much?
• Listen to Edgar Wallace: The Man Who Wrote Too Much? at 0900 and 1900 Saturday 14th March 2015 and BBC iPlayer Radio and on the Radio 4 extra web site.
• Archive Featured: Sweet Tea and Cigarettes (Sweet Talk Production for BBC Radio 4, 2004), The Mind of Mr JG Reeder (Radio 7, 2007), To Keep the Memory Green (Radio 4, 1989), Educated Evans (Radio 4, 1996) and The Ringer (BBC Radio Light Programme, 1951).