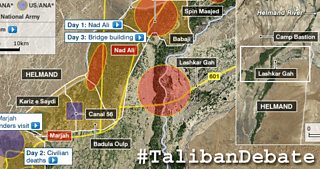 UPDATE: the Taliban debate on Radio 4 has now finished and I've closed the live chat. The chat will be archived here permanently and we've lifted the seven-day limit on the radio debate so you'll be able to listen again whenever you like. If you listened, or took part in the online debate, please leave a blog comment here and tell us what you thought. And for news of forthcoming debates and events, follow @BBCRadio4 on Twitter and 'like' our page on Facebook.
The debate is under way. Has the Taliban Won in Afghanistan? is on BBC Radio 4 now. Panellists include Peter W. Galbraith, outspoken critic of the 2009 presidential elections in Afghanistan and Lieutenant General Sir Graeme Lamb who was working, until recently, as a senior advisor to US General McChrystal. Join the debate by typing your comments directly into the live chat below or, if you're on Twitter, by tweeting with the hashtag #TalibanDebate.
I'm hosting the debate and Radio 4 Producers Jo Mathys and Hugh Levinson are on hand. We'll publish as many of your comments as we can. We'll close the live chat at 2100, fifteen minutes after the programme ends, and we'll archive the whole debate here. We've also made sure that the programme will be available to listen to on the Radio 4 web site indefinitely.
Steve Bowbrick is editor of the Radio 4 blog
Listen to Radio 4 on 92-95 FM, on DAB, on your digital TV or, from anywhere in the world, online. More details on the Radio 4 web site.
The debate was recorded at Chatham House in London last night.