Editor's note: To accompany the series A History of Ideas you can find 48 animations exploring some of the philosophical ideas and big questions from the programmes including Simone de Beauvoir on Feminine Beauty and Thomas Hobbes on Freedom vs Security. Produced in partnership with The Open University and animated by Cogni+ive the short films are narrated by Harry Shearer and Gillian Anderson. Here, Visual Thinker, Andrew Park talks about his creative process.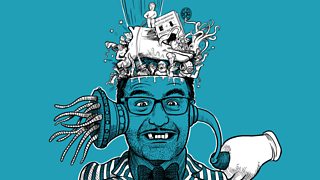 Andrew Park self portrait
I thought I'd write a blog to accompany the animations in this series. By way of keeping track of my thought processes as we make the series, and also to flag up and alert viewers to some content that might not be as obvious at first glance, giving some pointers to my creative decisions, and where they meander, connect with each other and sometimes cul-de-sac along the way.
The primary ambition is that the work is a cogent carrier for the 'important' philosophical message or idea. I am also a firm believer that information will only sink in when it's engaging and emotional. For me humour is a way of cementing that information into the memory. So it's important to have some fun on the way.
Memory is a crucial first step to knowledge and knowledge can be transferable across time and space. The ideas and theories that we are privileged to be working with in this series, and being broadcast to you right now are hundreds and sometimes thousands of years old. We can only access them because some clever people in the past remembered stuff and developed systems for transference of that knowledge. This is good news, because we all could benefit from what Plato or John Locke thought about. The brilliant thing for us, now, is we can use pictures and animation combined with the huge reach of Internet to really make some of those ideas come alive and resonate with a new audience in far off places. Potentially this could spark new thinkers and young philosophers to engage with these ideas and with any luck change the world in the process! Yes. Why not aim high?
We were originally commissioned to do the project because we were known for our work on the RSA Animate series. These 10 minute representations of lectures delivered at the RSA garnered quite a bit of success, and proved a new and exciting delivery mechanism for smart thinking online. Hence Mohit Bakaya, the commissioning editor for Radio 4 coming to see us. He was very keen on humour and the slight irreverence I have when translating information into these films.
I often reach for the closest thing to hand when I am trying to translate. I am a bit of a cultural magpie. I like to explore juxtapositions. Create new meaning. This is something I think Monty Python did exceptionally well when they crafted their sketches. They combined low culture and high-brow exceptionally well. Managing to slide concepts and ideas into the cultural mix with an innovative 'stream of consciousness' approach. The notion that things could just end or transition to something 'completely different' has a big influence on me.
So keep tuned and I will endeavour to explore my visual thinking. Part diary, part explanation, part excuse…. Let's see what comes out. It might be fun!
Andrew Park is the Director of Cogni+ive