How To Have a Perfect Marriage is writer Nicholas McInerny's autobiographical drama about a gay man who comes out after 19 years of marriage. This five-part drama can be heard from Monday 12 August.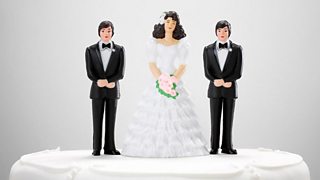 Radio 4 Drama How To Have a Perfect Marriage
I'm Nicholas McInerny and the writer of
How To Have a Perfect Marriage
.  I was married for nearly 19 years, with two children, before I
Came Out
at 45. My children were 16 and 12 at the time.
Obviously this was a huge transition in my life. I was caught between two great forces. One was the overwhelming need to be authentic, the real person I felt I had to be. The other was the terrible knowledge of the pain I was going to cause to people I cared about most.  Looming over all of this was the elephant in the room – the undeniable fact that I was gay and could no longer avoid it.
After I Came Out I realized I wasn't alone. There were lots of other ex-married men who were gay and a strong support network for all gay married men, whatever their status. I also discovered this fascinating organization in America called the Closed Loop, which promoted another model where, in order to preserve stability in a marriage, and with the wife's consent, the husband is allowed contact with a single gay man. A very modern kind of ménage a trois!
Having left my wife and also had my first significant gay relationship, I eventually found myself with someone I was very deeply in love with. This gave me the courage, along with sufficient time and distance, to reflect on what had happened. Naturally it was something I wanted to write about. It felt timely and relevant, and not just as a gay issue. I believe it touches on all kinds of long term relationships where the desire for commitment and security struggles with the need for adventure and self discovery.
Three years ago I was introduced to Mel Harris of Sparklab Productions and we started a conversation about how to approach the subject. We quickly agreed it should be told from the wife's point of view – our main character, Karen. After all, it was she that was being confronted by a huge change in her life over which she had no real control, but had to come to terms with. We wanted Karen to have a strong voice which caught the impact of what was happening to her – raw and real and honest. We also wanted to try and capture the great conflict that lies in the heart of all of us – our imagined ability to react decisively and rationally whilst dealing with those things that strike deep into our very being – messy and confused and volatile. Above all I wanted to try and depict Karen as not being a victim, and to show her having choices too.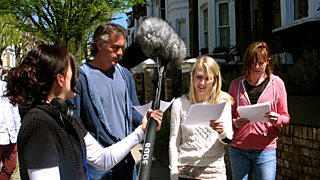 Actors Julia Ford and Greg Wise recording on location
I found this both the easiest and most difficult thing I've ever written. Sometimes I felt like I was transcribing my life, as conversations with my ex-wife captured every accusation, assertion and plea in those agonized attempts to be brutally honest. They brought up powerful emotions of shame, guilt, entitlement and self-loathing -  and finally self-acceptance. A great example of that is the final scene where Karen first gets to meet Tom, who wants to be her husband's lover.  I felt physically sick writing that scene and yet it sprung fully formed onto the page, needing no revisions.
We always knew, right from the star,t that we would get a strong reaction to this subject.  Mel and I were lucky to thrash out what we felt over the drafts I wrote, but even when we started recording with our wonderful cast - Julia Ford as Karen and Greg Wise as Jack - we'd often find ourselves in passionate debate.  Should Karen chuck Jack out? Is it really possible to love more than one person? Does sex mean something different to men than women?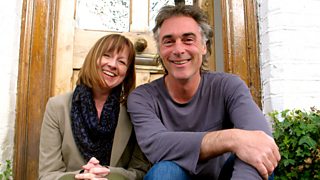 Julia and Greg take a break from the drama
What I realized was that in moments of great personal intensity we naturally fall back on our instincts, and yet in the shifting sands of emotions, even those instincts become deeply unreliable, even alien. And that's where Karen finds herself. Jack's revelation about his sexuality doesn't just provoke her need to find some certainty in her marriage. It becomes her struggle to find the language necessary to articulate that need for certainty – the right way to speak her truth.
I'm delighted with what Mel has produced.  I've written over 30 radio plays and this is the one I'm most proud of. I really hope it will speak not only to people in the same situation but all couples in a committed relationship dealing with what is the only real constant in our lives - change.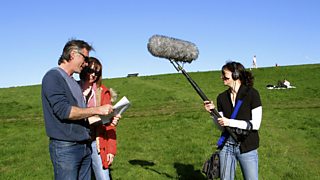 Julia Ford and Greg Wise on location
We're led to believe there is only one kind of marriage. What I've discovered through my own experience is that there are many kinds of marriage being successfully negotiated up and down the country.  But that in order to happen, it requires a degree of absolute honesty and willingness to communicate, that we as human beings often seem to find more difficult than the idea of monogamy.
Nicholas McInerny
The BBC is not responsible for content from external websites.