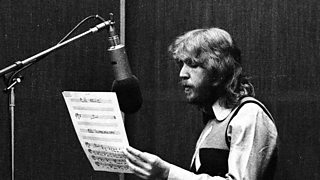 Harry Nilsson
is one of those names that most of us vaguely know, but can't quite think why. Yet each of us can probably name one of his songs, or some of the facts about his life. We might remember his two most successful records,
"Without You"
and
"Everybody's Talkin'"
, which were both chart successes as the sixties faded into the seventies. The first was a number one hit, the second also made the charts, but is more famous from the opening titles of "Midnight Cowboy". Or we might know Nilsson as the crafty songwriter who created "Cuddly Toy" and "Daddy's Song" for
the Monkees
, "The Puppy Song" for
Mary Hopkin
, and "One" for the cult American rock band
Three Dog Night
.
Fans of children's films might hum along to "Me and My Arrow" from Nilsson's fantasy cartoon "The Point", or his music for the Christmas special "Ziggy's Gift". And Beatles fans might remember him as the man whom both Lennon and McCartney once described as their "favourite group".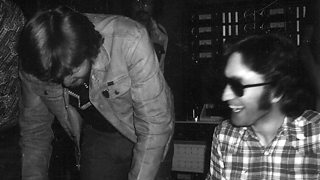 All of which goes to show that although Nilsson sits somewhere in our knowledge of the 1960s and 70s pop world, he's not particularly well-known or remembered today. Ironically, he is most often mentioned in terms of the rock and roll lifestyle: a roller coaster of drink, drugs and sex, which he shared with John Lennon, Marc Bolan and Keith Moon. "Raising hell with Harry" became a tabloid catch-phrase, helped along by the mysterious deaths of both Mama Cass and Keith Moon in his London apartment — stories that were splashed all over the red-top press.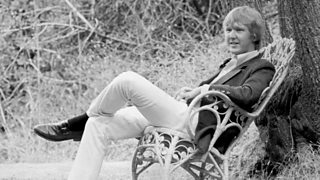 To some extent Nilsson's relative obscurity was something he created along with the hits and a string of albums. In the era of stadium rock, he refused to appear live. He also wilfully altered his appearance from one album cover to the next. The clean-cut, suited, former bank clerk of "Pandemonium Shadow Show" morphed into a barely recognisable drawing on "Aerial Ballet", and reverted to a school photograph on "Harry". The shambolic, bath-robed figure on "Nilsson Schmilsson" gave way to a Dracula costume on "Son of Schmilsson", and the angelic-voiced album of standard songs "A Little Touch of Schmilsson in the Night" features Nilsson in the cap and overcoat of a tramp. Nobody was going to recognise a star who disguised himself on record sleeves and was seldom in front of the cameras. And that way, Nilsson could walk the street of London or Los Angeles anonymously, without the paparazzi or jostle of attention that constantly surrounded his friends - The Beatles and The Monkees.
I have long been intrigued by Nilsson, and his creative urge. He produced over fourteen albums at the height of his career, all of which pushed the boundaries of studio craft and invention. Having the chance to delve into his family papers and write his biography was a wonderful experience for any writer. It is a privilege to tell the story of this remarkable singer and songwriter for the first time, and to share it with BBC Radio 4 listeners.
Image of Nilsson sitting reproduced courtesy of the estate of Harry Nilsson and RCA Records.
Image of Nilsson and Lennon reproduced by permission of the estate of Harry Nilsson.
Hear Alyn Shipton discussing Book of the Week on Front Row.
Listen to Alyn on Radio 3, Jazz Record Requests.
Listen to Nilsson: The Life of a Singer-Songwriter from Monday 19 August.