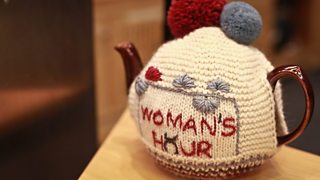 As we crawl through January, our challenge to you is to knit Radio 4. We'll be featuring programmes, patterns and video on the Radio 4 site, and, we hope, examples of the nation's knitting prowess.
So please get knitting. Here are some ideas knits that could represent our august network …
Radios, microphones, studios

Presenters (can you knit John Humphrys?)

Feminism; Fighting for your rights (Woman's Hour, You and Yours)

Food, Vegetables, Plants (The Food Programme, Gardeners' Question Time

Poetry, History, Philosophy (Poetry Please, In Our Time, History of Ideas)

Animals, farming (Farming Today, Tweet of the Day)

The Archers (Lower Loxley, Ambridge, David Archer …)
And if you don't knit, anything yarn-based - crochet, macrame would also be great.
Send links to existing or new work via Twitter (use @BBCRadio4 and #KnitR4 in your tweets) or in replies to this post on Facebook – by Friday 22 January. Knitters of the world unite - let's cheer up January.