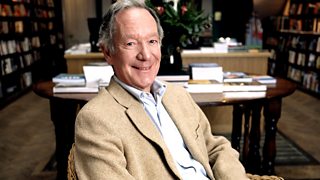 Michael Buerk

Why is it so difficult?

Well it is live and has four highly intelligent very independently minded panellists who spend most of the time with their backs to the presenter as they interrogate witnesses at the opposite end of the table. The presenter has to try to shut them up if they overrun their allotted time or start to browbeat a witness, and, towards the end of the programme, chair a discussion about the key points which have been made, and then finish the programme on time.
I was shattered by the end of the editions I presented. Michael, by contrast, seems to negotiate all those hurdles without breaking sweat.
One of the panellists I had to deal with was Dr David Starkey, sometimes called 'the rudest man in Britain'. Off air he was quite delightful. On air he could be terrifying, particularly if you tried to rein him in. He made Melanie Phillips seem almost bashful. (Another member of the panel was a young journalist called Michael Gove. Don't know what has happened to him.) In one edition, not chaired by me, Dr Starkey's then producer walked into the live studio, stood behind his presenter, and placed his hands round the Doctor's neck in an effort to shut him up. It had no effect.
I also appeared as a witness in an early edition. I can't remember what it was about but I would prefer to face an eminent QC in the High Court on a murder charge than do it again. As a witness you don't get the chance to talk to the panel  beforehand and are led into the studio while the programme is on air, put in the very hot seat and  cross-examined. After what seems a very short time you are told to leave, having hardly got out a fraction of what you intended to say. Or that is what it feels like.
In the early years the live broadcast was followed by an enjoyable dinner at a local restaurant with Hockney drawings on the menu. Much wine was imbibed. Today sandwiches, coffee and crisps are all that is on offer. The Roundheads are now in charge.
Here is our Moral Maze feature.