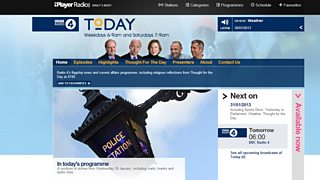 The new Today website
You may be surprised to learn this but until now there have been two distinct homepages for the Today Programme. One sat within BBC News Online and another exists on the Radio 4 website.
Because of technical changes on News Online, from now on there will be only one homepage for Today – this one.
It will be your one-stop shop for all things Today Programme related: listening live and hearing the most recent seven programmes, downloading the podcast, Thought for the Day, contacting the team, seeing photographs,  and finding the best clips.
We also plan to make the running order a more compelling online destination by including more links and comments from listeners that we receive via email and social media.  We will also have more links to further information about the various stories featured on the programme.  This is an example of Monday's running order.
I hope you enjoy these changes even though we recognise that for some people they will mean a change of habit.  We will be trying out a few different things in the coming weeks so do let us know what you think.
Nigel Smith is the Interactive Editor of Radio 4 and Radio 4 Extra