So You Want to Be a Scientist? The deadline approaches...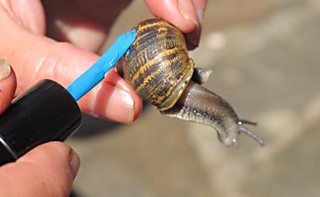 From the 2010 experiments - Ruth Brooks: Homing Snails
Looking for a new hobby? Try science.
One of the reasons that we launched our search for the BBC's Amateur Scientist of the Year is because science isn't really seen as a hobby.
Science is generally viewed as something that's done in a lab containing machines that go beep and test tubes bubbling over with brightly coloured liquid which may, or may not, present a health and safety hazard.
It's a very different scenario in the Arts, where despite having no discernible talent or knowledge, many of us decide to have a go at writing a poem, painting a picture or starting a band. Would any of us similarly decide to "have a go" at biochemistry?
Perhaps the nearest most of us get is the odd spot of domestic science, experiments which are rarely precise and prone to disaster. My first foray into jam-making last weekend showed that the boiling time stated in the recipe, and the actual duration to reach a setting point, had an extremely large error bar. This would not have cut the mustard, or indeed the jam, in my GCSE chemistry practical.
So can, and should, everyone practise science as a hobby? Our last winner, 70 yr old gardener Ruth Brooks A.K.A. The Snail Lady, is a testament to the idea that anyone can be niggled by a question and need to find the answer. Did the snails she threw over the fence really return to haunt her garden? If so, how far should she take them away to be sure that didn't come back?
With no science qualifications or formal training, all that Ruth was armed with was an enormous appetite for knowledge and a childlike curiosity about how the world works.
Now after a year of research she is set to become one of the lead authors on a science paper having discovered something genuinely new and exciting in the realm of ecology - that these little creatures do have a homing instinct and that you need to move them over 100m to make sure they have been exorcised from your garden for good.
So, if you have any questions at all, big or small, inside or outside, you have a few days left to enter them online before entries close at midnight on Tuesday 15 November. If you're selected as one of our four finalists I can promise it will be a voyage of discovery and a fascinating new hobby.
You can find out more about So You Want to Be a Scientist? on Material World Thursday 4.30pm repeated Monday at 9pm.
Michelle Martin is senior producer BBC Radio Science Unit