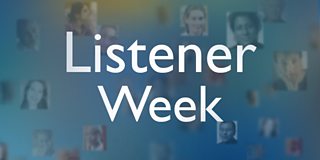 Back in October we asked for your suggestions about what you'd like to hear on Woman's Hour, In Our Time and Saturday Live. Listener Week starts on Monday, 24 November and runs until 29 Saturday. There's been a brilliant response and we're grateful for all your ideas – we certainly couldn't have predicted all of them.
In Our Time had an overwhelming response, with almost a thousand on topics ranging from the history of belly dancing to the Hanseatic League (me neither) but which subject will be picked? Melvyn will announce 'the chosen one' on the Today programme on Thursday morning (27 November).
Saturday Live's inbox ranged from the importance of your allotment to what belonging to a trade union means to you, and even an invitation to join one woman's walk around Wales. But this Saturday, the programme will hear from an extraordinary Derbyshire community who came together to renovate their own town centre. Plus, a listener who's written a series of stories about things he got up to when he was a kid and never told his mum:
Woman's Hour is dedicating the entire week to the topics its audience wanted to explore. If you find something tedious, don't complain to me or Jenni…every single item will have been suggested by a listener including: whether 50:50 shared care works as well for the child as the parent, staying fit above the age of fifty (tip: I fear it may involve a certain amount of exercise and moderation in all things you might enjoy) and why anyone would choose to be a social worker. And throughout the week, you, the listeners, will give advice on other listeners' problems, including one who asks 'Do I get back in touch with my ex?' (where do I begin?). I'll start the week with a listener who wants to discuss her husband's addiction to pornography and its impact on their marriage
Of course, we would be nothing without our listeners and your input, no matter what the programme. Please don't stop giving us ideas and inspiration. We're always here so if you fancy getting in touch any time of the year for Woman's Hour, In Our Time and Saturday Live, just click on the links below. The 21st century has its knockers, but one of the best things about it has got to be the wonderful opportunities we have to interact with and respond to you. Thank you. And we don't even mind if you complain. Much.
Jane Garvey is a presenter on Woman's Hour
Woman's Hour on Twitter - @bbcwomanshour
Saturday Live on Twitter #bbcsaturdaylive
Send an email to Saturday Live