Editor's note: In Thursday's programme Melvyn Bragg and his guests discussed The Bluestockings. As always the programme is available to listen online or to download and keep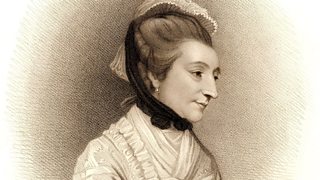 Hello,
Well, we (that is Tom Morris and myself) think we crammed in most of what we set out to do, but it was a sprint at the end and, mea culpa, I overshot by five seconds. Thank goodness it was not 'pip' time. To overshoot into the pips is a "send him to the Tower" offence. The programme highlighted something that until twenty years ago had been buried. It is curious that the Bluestockings created so much social and intellectual fuss in parts of London and Edinburgh and Bath and Bristol in their day and then virtually disappeared, were scarcely referred to as such, although women who engaged in intellectual pursuit and in promoting civic duty and culture began to stride ever more firmly through the 19th century. Yet it wasn't until a book came out in 1990 that the grouping and interest of that grouping came back into academic focus. And now it seems to be well and truly back on the curriculum.
One or two little asides. Samuel Johnson seems to have been rather jealous of Elizabeth Montagu (I think it was returned), and he set up one of his speaking clubs on the same night as she was holding her semicircle in her newly built house in Portman Square in London. One of the rooms in that house was decorated with feather screens for which she was extraordinarily famous.  She was well remembered for years for her embroidery rather than for her essay on Shakespeare or her titanic wealth.
And yet the notion of women released into higher education, devoting themselves to it with a "pure" passion, can still be found in our universities. When women eventually were allowed to go to universities, they seem to me to have gone very much in the spirit of the original Bluestockings.
In one sense I think the Bluestockings ran out of steam when radicalism came in. For reasons which may have to do with inclination or politics, in their original foundation they did not want much, if anything, to do with changing society. Not in the radical way anyway. In the 1790s, across the Channel, France was changing society dramatically. The very English Mary Wollstonecraft was out there in Paris alongside Tom Paine, preaching a radicalism which shuddered across the cliffs of Dover and back to London and beyond. There's a sense in which the French Revolution made Britain a conservative country (small 'c' and sometimes big 'C') for the next 160 years.
It's been an oddly Establishment week. Off to Lambeth Palace for an awards ceremony for religious programmes and I'm pleased to say that In Our Time figured in that. (Editor's note: Melvyn modestly omits to mention that the Sandford St Martin Trust presented him with its Personal Award for religious broadcasting, for programmes including In Our Time.) Then to the Royal Academy for their annual dinner. Hundreds of paintings, unseen until the last few days, which is exciting enough; but also military bands in scarlet red tunics. Trumpets calling, speakers lined up. The President of the Royal Academy somehow managing to turn an assembly of three or four hundred people into a club for the night. What an extraordinary place it is and not a penny of Government subsidy.
Then what? Well, met up with Anna Cox who produced and directed the film I did on William Tyndale, which when it went out at nine o'clock on BBC Two beat BBC One in the ratings. I mention that not only to boast, but because there was quite a lot of talk at the awards ceremony in Lambeth Palace about the inability of religious programmes to get big audiences or win good slots. The idea of religion dying away at the moment is extraordinary. Globally, we could be living in one of the most ferocious, religious epochs of the last 1500 years.
Anna and I had a cup of tea. She's making an obituary of a very famous religious person – I was about to say who but tact and politics forbid. Religious programming is very lucky indeed to have producers of such a calibre. I'm afraid, in making my speech at Lambeth Palace, I did mention that when Anna and I had come to film there we had gone up to the torture chamber which is still in Lambeth Palace, up ever-narrowing stairs to the top of Lollards' Tower, where these young men who had distributed the Bible in English were taken to be, well, tortured.
Let's see if I can find another note to end on. Oh yes, walked down this morning to the Lords. London blooming, busy, through Trafalgar Square and back to the French connection.  The big, blue, French cockerel, standing, glistening in the sun, looking up to Nelson on his column, who had his back turned to the cockerel. Is this called cocking a snook?
Best wishes
Melvyn Bragg
PS  Tom Morris tells me that one of the Bluestockings, Elizabeth Carter, invented a device that might be rather useful for Thursday mornings.  This is from Boswell's Life of Johnson:
'I talked of the difficulty of rising in the morning.  Dr Johnson told me, "that the learned Mrs Carter, at that period when she was eager in study, did not awake as early as she wished, and she therefore had a contrivance, that, at a certain hour, her chamber light should burn a string to which a heavy weight was suspended, which then fell with a strong sudden noise: this roused her from sleep, and then she had no difficulty in getting up."'
Download this episode to keep from the In Our Time podcast page
Follow Radio 4 on Twitter and Facebook
The BBC is not responsible for the content of external websites