In Our Time - The Philosophy of Solitude
Editor's note: In Thursday's programme Melvyn Bragg and his guests discussed the philosophy of solitude. As always the programme is available to listen online or to download and keep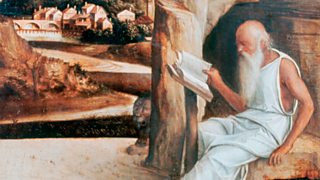 Hello
Just before the programme started, I said to our three contributors that each one of them could have done the entire programme single-handedly. They were a philosophical troika of formidable qualifications. Three professors and between them many books considered seminal.
And so we attempted to do one of our Grand Nationals. From Plato, we hoped, right up to the present day talking about solitude. We didn't get to the present day. We spent more time than I thought we would on hermits and anchorites, which left me feeling that perhaps the whole programme could have been devoted to them and that would have been no bad thing. We didn't get to Kant and Hegel, which was a titanic contest. But the thing about these gallops is that it frisks up the minds of those taking part and, I hope, entertains you.  Now and then, a survey of the whole territory is also helpful for Tom Morris and myself in deciding what we can pluck out for deeper study next time. Nevertheless, I felt that we had bitten off a little bit too much.
But of course the reaction afterwards from the three contributors was that we had not bitten off enough! They said we had not done this or that or the other. It's called lose-lose.
Tom Morris had his tail up this morning; very, very good news indeed about the In Our Time podcast, with the number of downloads up by 60% in a single month. Lovely e-mail directly after the programme from Piers Plowright, a friend, but even so. He used to be a star producer for Radio 3 and is a man of total integrity.  I should know, I was Trinculo to his Caliban and how much closer could you get to anyone?
Out of the BBC on a lovely, windy, June morning, to the office for interviews and publicity for the new South Bank Show Originals series, and then down to the best and by far the most reasonable brasserie in London, next to Piccadilly Circus, where I had one of the greatest treats that I know which is a modest lunch with an old friend and no agenda. The bill was even smaller than usual because I was not drinking. I have not had a drink for 19 days, I'll have you know. At the beginning of the year I didn't drink for 10 weeks. Just to see if I can.
Trafalgar Square, as I walked down to the Lords, had once more become the fairground and meeting centre of London. Something called West End Live is going to happen there on Saturday and Sunday and there were tents and much activity all around the place, as this magnificent central open space now has as many people in it as it once had pigeons.
The House of Lords was discussing the situation in the Middle East. As usual, those who spoke were extraordinarily well-informed, and the stories, both from the front and from what potentially might backfire into our own back gardens, did not make for comfortable listening.
And now, swerving off to see the England World Cup game with a friend. If we win, I shall raise a glass.
Best wishes
Melvyn Bragg
Download this episode to keep from the In Our Time podcast page
Follow Radio 4 on Twitter and Facebook
The BBC is not responsible for the content of external websites