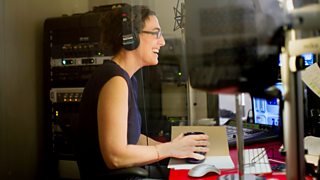 Sarah Koenig image for Serial on Radio 4 Extra (photo credit: Elise Bergerson)
The final episode of
global hit show Serial
is imminent and I'm excited to confirm that we will be bringing the final episode to Radio 4 Extra on the same day it is published worldwide on Thursday 18 December at 9pm.
There is still time for those of you who have not heard the global phenomena that Serial has become, to catch up with the story. This US podcast series has showcased the power of spoken word and great storytelling, and if you love speech radio and have not heard it, these are some of the reasons why you should.
Think TV box set season length 'who-done-it' - but for radio. Except it is not 'who-done-it?' but an 'are-we-sure-he–did-it'? And if not him, whom?
You hear recorded police interviews, cross examination from the court house, witnesses and bystanders to the story trying to remember something that happened fifteen years ago.
The storyteller is not a jaded misunderstood detective or young policeman keen to prove themselves. It is a journalist who shares her research, her notes, her faltering doubts, her bewilderment and her exasperation with us. We hear her workings, her thinking aloud - this becomes part of the narrative too.
And then consider that everything you are going to hear is real.
Then try and resist getting hooked.
We know Radio 4 Extra listeners love detective stories. They know exceptional speech radio and storytelling when they hear it. So what a splendid combination to bring to the network. Our station celebrates the best of speech radio and has been broadcasting Serial's only radio transmission.
Tipped off by Twitter in the early autumn I was not sure I wanted to listen to Serial. Having just done jury service, I had been immersed in the small details of legal cases and other people's broken lives, defendants and victim. As jurors, we were rightly advised not to play detective, not to try to be a Sherlock Holmes. But in Serial we are given full permission to do just that. Discuss the case. Speculate. There are over-excited internet forums. Podcasts about the podcast.
This is also more than just a podcast. The series has provoked fascinating debate about the nature of journalism, new forms of storytelling and issues of privacy, all of which are topics that interest many of our discerning Radio 4 Extra listeners.
Caroline Raphael is commissioner for BBC Radio 4 Extra
Listen to Serial on Radio 4 Extra