"Urmm – That's Sir Christopher Lee": Natalie Dormer on the making of Neverwhere
The first episode of Neverwhere broadcasts on Radio 4 on 16 March. In the meantime, hear Neverwhere clips and find out more
"Abso-bl***y-lutely!" I have checked. This was my immediate email response to my agent back in November when asked if I was interested in joining an ambitious, new radio adaptation of Neil Gaiman's cult novel 'Neverwhere'.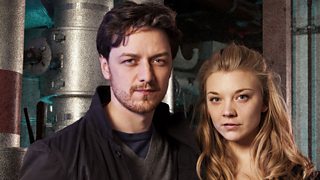 James McAvoy and Natalie Dormer as Richard and Door
I love Neil Gaiman's writing. 'American Gods', 'Stardust', 'Neverwhere'. I went through this particular reading phase in my late teens/early 20s, around the same time that I was a committed Tori Amos acolyte. So to find out they were friends ("If you need me, me and Neil'll be hanging out with the Dream King") only enhanced Gaiman's credibility as far as I was concerned at the time.
Fast-forward a few weeks after that email and after happily listening to Neil's audio-book, I knew James and Benedict were attached but I wasn't prepared for the table read: The preposterously talented bunch of people who arrived at that door (no pun intended – well, maybe just a little one). We weren't aware
of the full cast list before we arrived that day and although table reads are always a pleasant surprise – you bump into people you've not seen for ages, there are hugs, catching up, compliments on recent projects - this day the energy was very special. I stood at the tea table with Johnny Vegas asking him about his Desert Island Discs (I love my fair portion of BBC Radio 4 already, you see) and from the corner of my eye watched people walk in - their faces struck and then lit-up with excitement at the wonderful group in the room. For a RADIO piece?! It's always a touching, humbling thing to witness
talented, successful actors getting excited or a tiny bit star-struck by the presence of a co-star on a job.
Natalie Dormer on her character Door in Neverwhere
I won't list the cast (you know it) but, I have to say, very rarely do you see actors taking photos on their phones before a table read starts. I was sipping my coffee, trying to act casually about Sherlock, Dr Xavier, Giles, Estes (the list goes on) all being in the same room when Dracula walked in. I leaned into Dirk Maggs next to me. "Urmm – That's Sir Christopher Lee." Dirk replied with that reassuring, mischievous twinkle in his eye that I would become familiar with over the next week. A little tit-bit of information for you: the legendry Christopher Lee is a Latin scholar. He helped me with Door's Latin (and, much to my excitement, kindly signed my re-mastered copy of "The Wicker Man").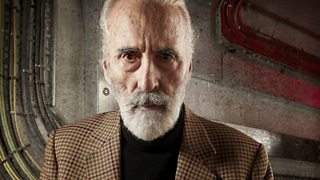 Christopher Lee as The Earl of Earl's Court
The joy and strength of radio is its power to flesh-out stories of epic scale without the million dollar special effects. The filmic soundscape Dirk has designed is very impressive. He created this incredibly free space for us, so the acting was much more physical than the way a radio piece is usually done. As an actor you go back to your fundamental tool – your imagination. And then, to be honest, we all just had a bit of a play (as well as the hard work, obviously!).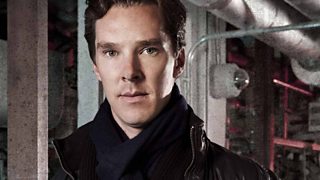 Benedict Cumberbatch as The Angel Islington
Dirk and Heather (- Larmour, Producer) were relaxed, supportive directors so we had A LOT of fun recording. James McAvoy is a devil for ad libbing and I'm an easy-target for corpsing. I also have a great video on my phone of the gorgeous
Sophie Okonedo
as Hunter, "fighting" with Abdul Salis. The two of them concentrating on the physicality, finding the vocal noises required and James is messing about trying to distract Abdul, which strangely adds to the energy. I spent most of my time with Sophie,
David Harewood
and
James
, but whomever I was with, be it the genius, dastardly double-act of
Anthony Head
and David Schofield
, a very pregnant and witty
Romola Garai
, or the absurdly talented Benedict Cumberbatch, I laughed every day until my sides ached and eyes watered.
Dirk, Heather (Larmour - Producer), their team and us motley crew of cast all contributed with love and respect for the original writing and its themes. I hope you enjoy listening to "Neverwhere" as much as we enjoyed making it.
It's a little bit awesome... "the way rats are a little bit covered in fur".
Neil Gaiman on how he developed the character of Door.