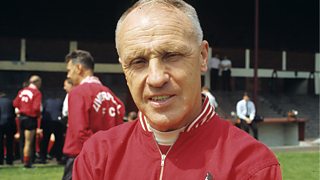 Why did you choose Bill Shankly?
I think it was not so much that I chose Bill Shankly as - and it might sound a bit over romantic or even arrogant to some people – Bill Shankly chose me really. I was a bit tired of contributing to narratives of despair and defeat and I wanted to write a book about a good man for a change. I was struggling to think what kind of book to do and how to write that narrative when a film producer asked would I like to write a film script about the life of Bill Shankly. And before he'd even finished the sentence, I was like, absolutely. But first I need to write a novel.
It was as though Bill Shankly had been sat in the room all along - I'd not noticed him. Growing up, I was a Huddersfield Town supporter and Bill Shankly – well before my time – was a manager at Huddersfield Town. My father and grandfather often talked about him. He features in The Damned United as well. In the original first edition, if you take off the cover, he's there. It felt like something I'd been waiting to write. People might say its hyperbole but you'd be hard pushed to find a better man to write about than Bill Shankly.
What do you think it is about Bill Shankly that makes him such an enduring cultural icon?
This was a man who changed and transformed people's lives, whether they were the players or the supporters. He had endless time for ordinary people. You could knock on his door and he would invite you in for a cup of tea. He personally answered all the letters he received. So people have this whole reservoir of stories and memories – folk memories from people on Merseyside - of what this man meant to them and how he changed their lives.
Everybody he met, he always thought the best of them, and brought the best out of them. And he always, always treated people equally. And it comes back to the fact that he was a socialist – not in the way that he read a great lot of political literature or theory, but in the way he treated everybody equally, the way that he believed everybody deserved equality of opportunity, that it wasn't about the individual - that it was about the team, the community, and that everybody worked for each other on the pitch as the team and off the pitch as the club. He represents socialism in its most beautiful and simplest form.
Shankly's influence begins to take hold on Liverpool Football Club.
Every day of his life, every hour of his life – he lived it with these principles. Shankly said that he was "made for Liverpool." Could Shankly have achieved greatness anywhere, or was Liverpool essential to making him the man, and the  manager, that he became?
As a Huddersfield Town supporter, and being that Huddersfield was the club he left for Liverpool, we Huddersfield Town supporters always think: had our board given him the money to buy Ian St John, then Huddersfield Town would have the same legacy and status that Liverpool Football Club still have to this day. But at the risk of alienating and annoying every Huddersfield Town supporter out there, I think in all honesty that Shankly went to Liverpool because he knew that even though Liverpool were in the second division, there was a fervour to the supporters that he felt he could help awaken and that's what he did. He instinctively knew that this was the city for him.
David Peace on his love of football and how it helps him escape when writing crime novels.
Do you have a soundtrack to get yourself into the atmosphere of a time period and if so, what was it for Red or Dead?
When I'm writing, I always try to use the music of the time I'm writing about. Going back to my first book, 1974, I listened to Diamond Dogs by David Bowie over and over again. I think the music of a particular time can help you recapture the language - because language changes all the time. With Red or Dead – it was a little bit more difficult. Bill Shankly himself liked what I might describe as easy listening – Jim Reeves, Pat Boone, Mario Lanza – and I did dutifully go and buy a lot of the music he listened to. To be honest – shall we say – I found it a little bit distracting to listen to it. I'm a huge admirer of Shostakovich and his historical symphonies based on certain years.  That music captured something about the crowd scenes and the football scenes. And Shostakovich himself was a huge football fan – he supported St Petersburg.
David Peace on how poetry of the Russian Revolution was an inspiration for Red or Dead.
You mentioned that you were in a band when you were a teenager – what was it called?
The Paunchy Cowboys. We recorded a lot of demos in studios in Leeds – we have the demo tapes  -but so far there's not been the demand to see them digitalised…
David Peace on football and how he hopes Red or Dead will act as a catalyst for change.
With Sir Alex Ferguson retiring and Red or Dead covering Bill Shankly's retirement, can we draw comparisons between the pair?
Sir Alex Ferguson was a great admirer of Bill Shankly and there are stories that when Sir Alex Ferguson was at Aberdeen, he used to play tapes of Bill Shankly speaking on the Aberdeen bus – much to the horror of some of the players. I think there is a good comparison between what Sir Alex Ferguson achieved when he was manager of Aberdeen, and what Bill Shankly did when he came to Liverpool. By the time Sir Alex Ferguson goes to Manchester United, you'd need to compare him with Bob Paisley. Manchester United had not been as successful in previous years, but when Bill Shankly went to Liverpool they were in the second division. Manchester United were not in the second division. So it's more useful to compare Ferguson's Manchester United period with Paisley at Liverpool.
It's been said that after your 12th book, you've threatened to stop writing altogether – is that true?
The daft things you say in interviews! I'd written Occupied City, which was my eighth book, and I think I'd written myself into a bit of a corner. As I say, I was looking for a different kind of narrative; a different story. And at that time before Bill Shankly came calling, I did find the thought of four more dark books a bit too much. But the bad news is, I've changed my mind. I think there'll be more books. Sorry.