AL Kennedy's new Radio 4 documentary - America's Gift to the World - tells the story of Alcoholics Anonymous and its methods, and asks whether AA is still the best 'cure' for addicts given new science and treatments. This is the background to the story, and how the making of the programme impacted on its presenter.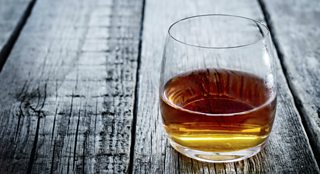 The initials AA are peripherally familiar to many, as is perhaps the name Alcoholics Anonymous. Nevertheless, I think a lot of people don't know much about AA or the story of its creation – when Bill Wilson, an alcoholic wall street trader with a big idea about staying sober, met an alcoholic doctor, Bob Smith. They talked and understood each other, helped each other get sober and worked out a way they could pass that on. I've seen friends ruin their own lives and those of all around them through dysfunctional drinking: the idea of two people finding a way to unravel that nightmare is truly beautiful and fascinating.
AA's desire to preserve its members' privacy and to make no grand statements on issues, meant we had to be sensitive about interviews. It's also probably one reason why AA isn't well-known outside its membership. AA's also an intentionally disorganised organisation. I loved looking at a huge association which seems to do exactly what it intends and yet which is specifically engineered to concentrate power and responsibility downwards and to avoid creating authority figures, funding drives, advertising drives and so forth. It seems to reverse modern thinking about success, but has millions of members, has lasted 80 years and still rolls on.
With so many products and experiences now designed to exert an addictive or pseudo-addictive influence, I suppose AA pushes against some powerful trends in society. As was pointed out during my research, alcohol use is central to many of our social occasions, celebrations, even some religious ceremonies. Anyone trying to stay away from drink isn't going to have it easy. AA isn't for everyone, but it seems to work very well for those who do use it.
What I was struck by most of all was the generosity, honesty and compassion of all our contributors. We have hours of wonderful stories and insights that we just couldn't fit into the programme. The professionals we spoke to were genuinely passionate about trying to understand alcoholism and help alcoholics to recover. AA members were searingly frank about themselves – and very funny - and really had a grip on who they were and how they could meet the world. We also interviewed Al-Anon and Alateen members – those affected by the drinking of others. Their experiences and bravery were startling, humbling. It was really a privilege to meet them all.
America's Gift to the World is broadcast on BBC Radio 4 at 8pm on Monday 6 April.