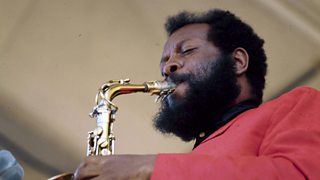 Ornette Coleman
Jez Nelson previews this week's Jazz on 3, paying tribute to saxophonist and composer Ornette Coleman
Time after time jazz musicians talk about the quest to find their own voice. It seems to me that Ornette Coleman found his at an early age and it was one of the most recognisable in this beautiful music's history. Ornette's blues-drenched, heart-stopping alto call was as close to the cry of the human soul as any horn player ever got. From the seismic recordings of his late 50s quartet through to his last recorded works (the subject of litigation to his final days) his sound was recognisable within a phrase.
I think that's why he touched so many and is being mourned so deeply. It matters little whether you ever got to grips with his harmolodics theory, because like John Coltrane, James Brown and Aretha Franklin, Ornette Coleman could floor you with a few notes.
On this week's programme we hear from some of those who were close to Ornette or whose lives and music were touched by him. The singer Neneh Cherry (find clip below) talks movingly about her childhood memories of a dazzlingly dressed man who was a guru to her stepfather Don: and pianist Paul Bley (find clip below), now in his 80s, laughs hysterically as he describes being left irrelevant in his own band by the quartet that would soon record The Shape of Jazz To Come running musical rings around him. And bass player Jamaaladeen Tacuma describes how Ornette bottled the sound of a bustling New York into the super-tight funk of his superb Prime Time band.
'They were very much a unit... brothers...' Singer Neneh Cherry recalls her stepfather Don's relationship with Ornette Coleman
'You got it? Got it? I had never had it..!' Pianist, Paul Bley remembers playing with Ornette Coleman.
My guest, Guardian writer John Fordham, tells us how he nearly walked out of his first Ornette gig in Manchester in the 60s - baffled by Ornette's attack on violin, trumpet and alto. He wasn't alone - the jazz world was shocked and even offended. But John stayed and Ornette won him, and eventually generations of music fans, over. He never changed but we learned to listen and to realise we were hearing something natural and important. The Shape of Jazz to Come indeed.
It would be impossible to get even close to summing up Ornette's 60-year career in 90 minutes but I hope you'll enjoy listening to this week's Jazz on 3 as much as producer Chris Elcombe and I enjoyed putting it together. There's much love for Ornette and his voice will be with us forever.