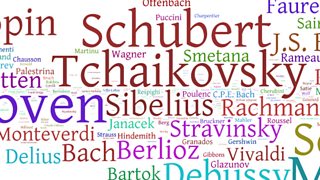 Update, 30 September 2013. We've received thousands of ideas from listeners for composers we should feature in the celebration series at Christmas but
our call for suggestions is now closed
and 
we've edited this post to remove it
. Please don't send in your suggestions. It's too late for us to use them now.
Chris Taylor is Executive Producer for Composer of the Week at Radio 3 in Cardiff. He's been doing some research into one of the longest-running radio programmes in the world. First, some words from presenter Donald Macleod: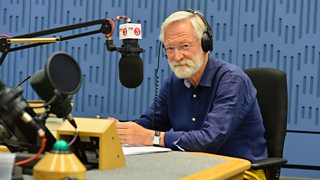 It's been my enormous pleasure to present Composer of the Week for the last fourteen years, and a great honour to be entrusted with one of the longest running programmes in radio history.
This year, Composer of the Week marks its seventieth birthday. To mark that special anniversary, we will feature a composer who has never appeared on the programme before in a special series for transmission at Christimas.
Download this list of every composer who has featured over the last seven decades (PDF).
Donald Macleod
This year, Composer of the Week reaches a significant milestone. On Friday 2nd August 2013 we celebrate the programme's seventieth birthday.
That makes it not only one of the longest running programmes on Radio 3, but also one of the oldest programmes in broadcasting history.
To mark this special anniversary, we want to feature a composer who has never appeared on Composer of the Week before. I hope you can help us by sending us your suggestions for any composers we should consider, and there are details of how to contact us below. However, before we could reach out to our Radio 3 audience, our production team needed to do some research into the programme's history.
Composer of the Week has been produced in Cardiff and presented by Donald Macleod since 1999. So, our own records of the programme go back just fourteen years. Even in that time, we've covered an enormous range of subjects. There are our regular stalwarts of the classical canon, like Bach, Mozart, Brahms and Schumann, who appear most years, but also lesser known figures like Fibich, Holmboe and Jommelli. Then there are our occasional diversions into the worlds of jazz, film music and Broadway.
So what of the rest of Composer of the Week's history? A little digging by our friendly researcher at the BBC Written Archives in Caversham revealed that the very first programme, which was then known as This Week's Composer, featured Mozart. It was launched on 2nd August 1943, on the BBC's Home Service at 7.30am, and was just 25 minutes long. We discovered that this first broadcast included recordings of Yehudi Menuhin playing Mozart's violin sonatas in B flat, K.378 and in A, K.526.
In the early days of This Week's Composer, and until quite recently, the programme was presented live by the day's duty continuity announcer. Because of this, there are no recordings of the programme in the BBC Archives from before the 1980s. Listen to this episode of This Week's Composer from the 1980s, also featuring Mozart.
If you own any early recordings of This Week's Composer please do let us know.
The BBC's annual report of that year said "In 1943 records were the basis, notably, of a new series called This Week's Composer – an innovation which proved that lovers of serious music are awake in large numbers as early in the morning as 7.30am.". Not all of our audience agreed. A letter to the Radio Times that year requested "lighter music in the early hours to provide a most necessary contrast to This Week's Composer." To be fair, listeners didn't have a great deal of choice. In those years of wartime austerity the BBC was broadcasting on just two radio channels: the 'Home Service' and 'For the Forces'.
No details have been preserved about who presented the records that first week. We were also unable to discover any surviving audio recordings from those early years. A single page of a draft script from 1944, which seems to have survived in the archives purely by accident, makes it clear that these early programmes were very simple. A couple of lines of information is all that was provided between each record. These comments would have been read, no doubt, by whichever announcer happened to be on duty that morning. The script from 1944 was signed by Stephen Williams, best remembered as a DJ on Radio Luxembourg!
We were delighted to discover this wealth of information about our very first programme. However, it was going to be a much more difficult job to compile a list of all the composers who had ever appeared on the programme. It would be essential, though, if we were to ask our listeners to suggest a brand new composer for us to feature in 2013.
The written records at Caversham are extensive, but often laboriously catalogued on microfiche and card indexes. The BBC's own sound archives proved to be unhelpful also. The programme was, for many years, cast as a simple sequence of gramophone records, presented live by the duty continuity announcer. Because of this, no recordings seem to have been made or kept. The earliest 'built' programmes we were able to find in the archive date from 1988! This recording from 1988 features current presenter, Donald Macleod, long before he took over the programme on a regular basis in 1999. It's fascinating to hear how the sound of Radio 3 has changed even in 25 years.
So, we made the decision to go through, by hand, our archive of Radio Times. It was a mammoth task, and one that we had to do in shifts. We found that it wasn't possible to spend more than a couple of hours at a time poring over the ancient copies, week by week, year by year, before needing to take a break and do something else. Gradually, however, we built up a complete picture of the programme over the last seven decades. Occasionally, particularly during the 1950s, we found short gaps in the sequence, when the programme seemed to be taken off the air for a period, only to return again a few weeks later. But by the 1960s, the programme was appearing every single weekday, just like clockwork.
In 1964, This Week's Composer moved to a new home, on the 'Third Programme', (which would eventually become the BBC Radio 3 we know today). On 18th January 1988, the programme was quietly re-branded Composer of the Week.
Over the last seven decades we have gone on to feature nearly four-hundred individual composers, and over a hundred more groups, or schools of composers .
Donald Macleod became the new regular presenter for the programme in 1999, with a brief to put the life-story of each composer at the heart of the programme, alongside the music. Donald remains at the helm today. In 14 years, he has written over 3000 scripts, including sixty about J.S Bach alone (and another sixty about Handel).
This December, in honour of our 70th year, we'll include a composer who has never featured on the programme before, suggested by our listeners.
Download this list of all the composers who have appeared (PDF).
Chris Taylor, Executive Producer, Composer of the Week