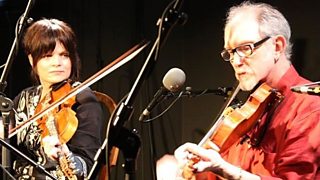 How it all began for Verity: Annbjørg Lien and Bruce Molsky
I'll be honest with you. I never used to like folk music very much. If it wasn't all rumpty-tumpty, four square tunes in a wincingly sour D major, it was notes relentlessly whizzing by at such a speed it left me feeling faintly nauseous. Where was the subtlety, the depth, the point?
Enlightenment came in stages. The first was witnessing Bruce Molsky and Norwegian Hardanger fiddler Annbjørg Lien trading tunes in a bar late one night. Over three thousand miles separate New York and Oslo, and these two had barely met, and yet from the way they were playing music together you'd think they'd known each other since birth. As one old time fiddle tune after another twined itself around those of the Hardanger, I began to fully appreciate what that old cliché of 'music being able to transcend language' really meant. These two were rapt in note-to-note, heart-to-heart dialogue, creating a bubble around them that grew as more of us gathered round to listen. This was love made audible. Love of people, love of music, love of the moment.
The second stage was discovering the work of Irish fiddler Martin Hayes, a man who didn't feel the need to show off his considerable virtuosity by playing Irish jigs and reels at breakneck speed: instead, with exquisite care, he slowed them right down to take a good look at what was under their skin. What he found was a sadness, a longing ‒ the kind of thing flamenco singers call 'duende', but in County Clare they call 'the lonesome touch'. 'The word lonesome expresses a sadness, a blue note, a sour note,' wrote Martin, 'even though the music bares the trace of struggle and of pain, it is also the means of uplift, transcendence to joy and celebration.' So here was music that could, in the right hands, weave a tantalising tapestry out of both elation and depression. I was becoming hooked.
Finally, through time spent at the English Acoustic Collective summer school, I began to make sense of what my own country's music meant to me personally as an English citizen living in the 21st century. There was no need to be embarrassed by it. It was a part of my history whether I liked it or not, but by embracing it rather than fearing it, I could benefit from its many pearls of common wisdom. There was truth in this music. And that's really why it mattered. Course leader Chris Wood talked not just about songs and tunes, but of all the people who had shared in it down the ages, and how becoming a link in that human chain was a powerful way to feel connected.
And I do now feel connected to history in a way that's far more tangible than studying the lives of kings and queens. It turns out that history's not all about fact. It's also about feel.
If you'd like to dip your toe in the water, here are ten tracks to try…..
Martin Hayes The Lonesome Touch
Chris Wood The Lark Descending
Leveret New Anything
Sam Lee The Fade in Time
Martin Carthy and Dave Swarbrick Prince Heathen
Karine Polwart Traces
Shirley Collins Sweet England
Furrow Collective At Our Next Meeting
Kathryn Tickell Debateable Lands
Steve Turner Rim of the Wheel
Folk Connections runs from Friday 29 January to Sunday 31 January on BBC Radio 3. A special Collection of Radio 3's Folk programming, including Celtic Connections, is available here.