The first performance of my new work Pan at the BBC Proms on 3 September marks the end of my year as Composer-in-Association at the BBC National Orchestra of Wales (BBC NOW).
Over the last year, BBC NOW has played six of my orchestral works in Cardiff, and I have also had the opportunity to conduct the orchestra. It has been a fantastic experience. Having been given the chance to get to know this brilliant orchestra rather well, for my new piece I have tried to write a bespoke piece of music for them and their fantastic principal conductor Thomas Søndergård.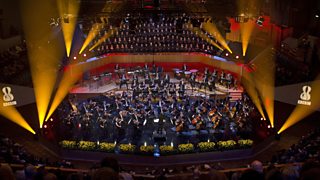 The BBC National Orchestra of Wales
In my experience, every orchestra has something of a collective temperament, a personality. It consists of the qualities of the individual musicians, as well as the sound of the various sections of the orchestra. But all orchestras also have different attack, drive, energy, and response as a group. In my piece, I have tried to capture what I feel is the essence of BBC NOW, to highlight the strengths of the orchestra and its excellent players.
Why the title Pan?
All composers are different, and, for my part, I always need some inspiration to get me started, both when it comes to the character of the music and the overall form.. I have quite often found inspiration in extra-musical sources, such as visual arts, literature, or mythological tales. I would find it hard to write a piece with a neutral title like "Structure 5", or something similar. That doesn't mean my music is lacking in structure, or that I try to compose descriptive "programme music". I work meticulously with the musical material in all sorts of technical ways, elaborating all aspects of the craft. But I need another focus to get started. In this case I found the motivation in the ancient Greek myths about the god Pan, but also in a certain person who has inspired me.
In an early stage, I was asked to use the Royal Albert Hall (RAH) organ in my new piece. I was quite happy to do that, since I have developed a particular interest in pipe organs over the years, and have also used organ in the orchestra several times before. I have also written an organ concerto, Albertus Pictor, inspired by old medieval church paintings. But nevertheless it took me some time to find out how to incorporate the organ in a prominent way in the new piece, without letting it become an organ concerto rather than an orchestral work. Even here I found great help in my source of inspiration, the myths about Pan. The organ could very well be imagined as a gigantic pan pipe, both visually and musically, so it has been given the role of representing the Greek god in my piece.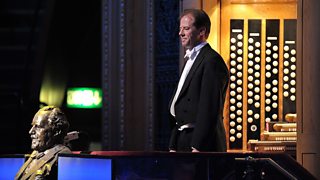 Organist David Goode with the RAH organ on which he will perform the solo part in Pan.
For me, all of this acts as the scaffolding on the outside of the piece under construction. It's a great help while creating the piece, but during the composition process, I usually become less and less dependent on this scaffolding. The musical material gradually gets a life and integrity of its own. When the music is ready, I even find it of lesser importance to reveal the precise details of my inspiration. The music should be able to stand on its own. On the other hand, I also know that a poetic title can be a great help to the listener, in order to find a way into the music. It can create a curiosity and whet the appetite.
I want my music to be accessible and enjoyable, without having to compromise on structural or formal qualities, complexity, form, or musical content. My humble way of trying to find a path forward is rooted in tradition, in the music of the past… but I don't want to compose old music. I hope that my music reflects our time, that it has a contemporary feel, albeit with some familiar elements.
Other composers have more experimental ways to move forward. Being a conductor myself, with a fairly vast experience of performing contemporary music, I have the greatest respect for what my colleagues are doing. In fact, I really enjoy conducting their music as well as listening to it. But it's not for me to write experimental music. I have to follow my own heart and I hope that the audience as well as the orchestra will take pleasure in the result.
Pan will be performed at the BBC Proms on 3 September 2015 by the BBC NOW, with organist David Goode, conducted by Thomas Søndergård.