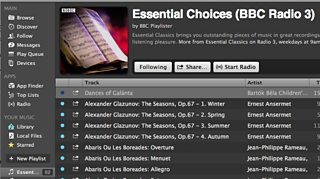 Essential Choices on BBC Playlister
Twitter, podcasts, Facebook, blogs, iplayer, Soundcloud…. it can all seem a bit much can't it? It is true that in this digital age there are many demands for our attention, but when these tools are used in a focused way, they can undoubtedly offer lots of benefits. With this in mind we've recently added another feature into the digital mix too - Essential Choices on BBC Playlister So what's this all about and why should you give it any attention?
Firstly, if you aren't familiar with BBC Playlister, there is a very comprehensive page here that explains all. In a nutshell however, BBC Playlister allows you to keep track of the music you enjoy listening to on the BBC. It also allows programmes on the BBC to create handcrafted playlists of music for people to follow. And this is what we have done with our Essential Choices playlist.
As you may know, at 11am from Tuesday to Friday, Rob and Sarah choose an 'Essential Choice'. These pieces are often themed in some way, for instance this week Rob has chosen four romantic piano concertos. If you miss them live then of course you can always catch up via the iplayer, but only for a limited time. However, via Playlister you can now listen to these pieces at any time you want. It's pretty straightforward, and the only thing you need to do is to make sure you have a Spotify account. It's completely free and very quick to register. Once you've done that, you just 'follow' the Essential Choices playlist and each week you will be notified as we add new works to the playlist. You can then listen back at your leisure, days, weeks or even months after broadcast. What's to lose?!
If you have any comments please do leave them below, or you can get in touch via email or Twitter:
Email: essentialclassics@bbc.co.uk 
Twitter: #essentialclassics