Horn honking here is a significant pass time, and we didn't leave Bangladesh with a single recording whether music, interview or wild track without some kind of horn or tuk tuk bell on it.
As sound engineer Rob Winter and I edge forward in the 40 degree heat a traffic policeman does his best to direct the cars, carts and ramshackle buses into their designated lanes. He waves his arms around with absolutely no effect whatsoever – eventually he sees a driver he knows and wanders over for a chat, whilst a cacophony of horns continues in the heat.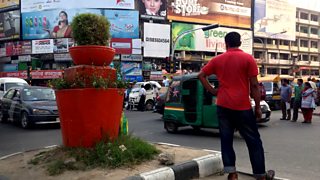 We eventually reach our destination and make our way to the roof. We're recording folk musicians from Dhaka and rural Bangladesh, who are meeting us here on the roof of a house by Lake Gulshan.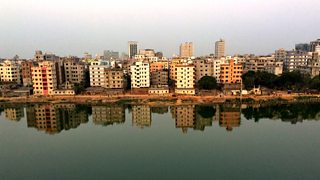 I thought I'd quite carefully planned our recording session late in the day at 5pm, thinking the heat would have subsided, but with temperatures still high, it looked like we might not be able to record, as it was too much for the musicians and their instruments never mind the sweltering visitors.
However, having found some fans the musicians began to set up. The musicians here today call themselves 'Udashi' they play Shari (wooden flute), Kanthi or 'Bangla' Dhol (a slightly fatter type of dhol drum than I'd seen before), a 2 string plucked instrument called a Dotara, a harmonium, Mandira bells (small but loud) and 2 singers.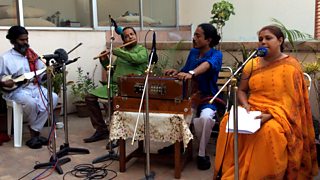 First we heard from folk singer Dewan Baby Aktar. She sings 'Oh my beloved you are on the other side of the river - it's the river of love. I cannot get there without having wings to fly to you, so it is my fate to be apart from you'. It's a Bhatiali song. 'Bhati' means downstream and these songs are typically sung by the boatmen and people plying their trade on the rivers of Bangladesh. It's brilliant to hear a musical style born from this country's waterways and landscape.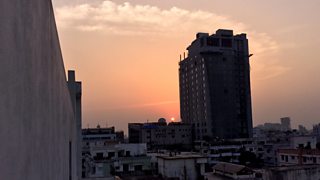 The sun is setting by the time Baul musician Rob Phakir swaps places with Baby. The Baul's are a group of mystic minstrels that live their lives out-with the conventions of society as far as possible. Rob tells me that Bauls follow a guru, along with the teachings of Lalon Shah. Lalon Shah was a Bengali pilgrim poet-philosopher and someone Rob calls 'a very wise human being'. It's an ancient and almost religious way of life with various Baul branches and gurus. Singing and dance play an important role in their practice and I'm lucky enough to hear some examples from Rob. First he sings a song about Lalon Shah, the first piece I've heard here with a solemn minor feel.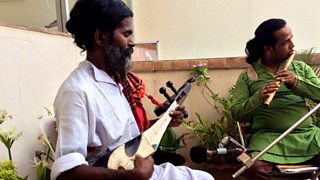 He's dressed all in white, and gives slow considered answers during our interview, so it's a surprise when the musicians start to giggle and he sings a song about sex and the body. Apparently it's something of a warning from the elders to the young, again with teachings from Lalon Shah. The words describe potholes that fill up with water when it rains, everyone wants to jump into the water, but Lalon warns they will catch a fever and to practice self-restraint before it's too late.
Of all the places we've visited during the Asia leg of this recording trip, Bangladesh has been the most colourful. I wish we had more time in this country. I feel we have only just scratched the surface.