Twenty years ago the BBCSO performed a cycle of Sir Michael Tippett's four symphonies at the Barbican. During that time, on a couple of bitterly cold March days (no change there then), the orchestra went into All Hallows Church in Gospel Oak, North London and recorded the second and fourth with the partially-sighted 88 year-old composer conducting. It was a challenge to say the least, partly because of the intense cold - (industrial 'space heaters' were fired up between takes) - and partly because the espadrille-clad conductor was enjoying himself a little too much, delighting in what he had created and not always delivering a much sought-after clear beat.  At one point in the fourth symphony, everything came very unstuck as if someone had smeared wet paint on a giant canvas, causing one of the exasperated tuba-players to cry out: 'Stop the machine!!' But if I shut my eyes I can still hear Tippett's calm, avuncular voice exhorting players to 'Keep it light, love, always light.'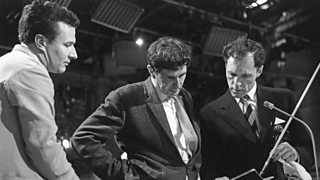 Colin Davis, Michael Tippett and Erich Gruenberg discuss Tippett's Concerto for Double String Orchestra prior to a BBC TV recording
Two decades on we are doing another cycle, also at the Barbican and as far as I am aware there has not been another in the meantime (save the late, lamented Richard Hickox's Bournemouth recordings for Chandos). At this stage (we have performed numbers two, three and four) the thought occurs to me as to why on earth this characterful, often gorgeous music is still less-performed on these shores than, say, that of Walton or Britten.
All three near-contemporaries have eminently individual and recognisably 'English' voices, without sounding like those 'giants' of the previous generation: Holst, Delius or Vaughan Williams. So why the apparent neglect? Part of the reason may be that a lot of Tippett's writing is very difficult, requiring more (expensive) rehearsal time. Britten and Walton are generally more 'playable' but Tippett stretches your technique sometimes to breaking point. Now, I obviously haven't played every symphony ever written - there are still many by Myaskovsky, Robert Simpson, Milhaud and Havergal Brian and others to wade through - but I'd wager that few are as tricky to negotiate as Tippett's Fourth. Rumour has it that it is intentionally difficult as it was commissioned by the virtuosic Chicago Symphony. As we worked on it, a horn-player described his part to me as: 'Crucifying.'
Granted, the often long-breathed melodies can be hard to make sense of and the angular rhythms awkward; some of Tippett's works are not always easily accessible on first hearing. His own libretti, too, can sometimes be a bit wacky, but once you are through the technical exterior there is an integrity, charm and profundity to his music that more than repays deep investigation. Tippett had an infectious zest for life and one only has to listen to the vigorous opening of the second symphony to hear that. He rightly deserves his place alongside his more oft-performed peers and should be core symphonic repertoire by now.
Coming back to these pieces has been a real joy, particularly with conductors who understand his idiom so well. Let's hope it's not another 20 years until we play them all again.
Phil Hall is sub-principal viola of the BBC Symphony Orchestra