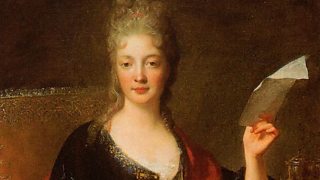 Elisabeth Jacquet de La Guerre
To mark International Women's Day on Sunday 8 March we're celebrating female composers both past and present. There are 6000 women composers in history, so why can most of us only name a handful? We as a station can't solve the imbalances of the classical music industry - which inevitably reflect historic societal attitudes to women generally - but it's very important to take the time to explore the issues.
We will be celebrating today's wealth of female talent and creativity and also championing history's great trailblazers who helped pave the way for them. As well as recognisable names such as Fanny Mendelssohn and Clara Schumann we look at slightly lesser known names from history such as Barbara Strozzi and Élisabeth Jacquet de La Guerre who managed to make a name for themselves in a male-dominated world, alongside a range of composers working today including Charlotte Bray, Anna Clyne, Cheryl Frances-Hoad, Hannah Kendall and Dobrinka Tabakova.
Our celebration isn't about discounting or banishing male composers either; composer Anna Meredith includes music written by men in her Private Passions selection of music that has inspired her. Male presenters will be involved in the programming and male figures from the classical music industry including conductors Edward Gardner and Harry Christophers will also throughout the day champion the music of women composers they particularly admire.
However, this is certainly a focus on female creativity and to have a whole day of programming dedicated to the music written and chosen by women (including a Through the Night of music exclusively written by women composers) and complementary programmes across two weeks is testament to the great wealth of female talent around today and across the centuries.