In December 2020, Ryan Hugh Ross, a PhD student at Southampton University, published a fascinating, fully-illustrated BBC blog, Julius Burger's Themes of London: An Émigré's legacy at the BBC. Burger was a Viennese composer who started visiting the BBC in London during the 1930s, to provide orchestrations. These visits never led to naturalisation – Burger did his work at home in Vienna, but with the Nazi Anschluss of Austria in 1938, Burger sensed it was no longer safe to remain in Europe and managed to obtain visas for himself and his wife, Rosa, to enter the United States, where he eventually found work with CBS, as a conductor on Broadway, and as a repetiteur and assistant conductor at the Metropolitan Opera.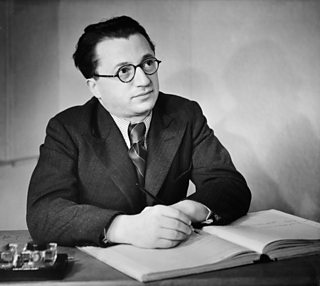 Julius Burger in the 1930s
During his time with the BBC, Burger pioneered a new genre which he called "Radio Potpourri" – a collage of multiple musical melodies grouped together around a central theme. Ross explained that "Burger did not by any means invent the genre: composers had been making potpourris since the 18th Century. He took what were usually 10-minute melanges of music and expanded them into hour-long epics for the medium of radio. These incorporate a storyline and narration over a tapestry of musical themes."
Conductor Stanford Robinson (1904-1984) was on the BBC music staff for 42 years. He was the BBC's first chorus master and from 1932 to 1946 conducted the BBC Theatre Orchestra. In a Radio Times article in June 1935, he wrote:
Musical Potpourri? It doesn't sound a very original idea. But a Julius Burger potpourri for soloists, chorus, and orchestra, lasting an hour, is to the ordinary potpourri, which plays for nine or ten minutes, as a modern Cunarder to a primitive paddle-steamer. Burger has specialised in this type of programme, peculiarly suitable for the medium of radio, and has brought it to a point very near perfection.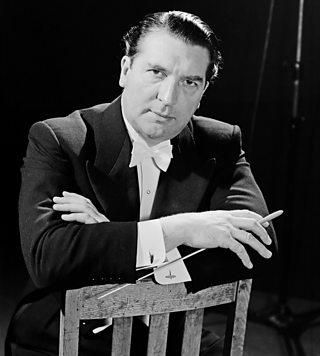 Stanford Robinson
Ross went on to note that "the potpourri provided potential for a tailored work to fit any occasion. The Geographic Potpourri, for example, took the listener on a journey by utilising music from a travel itinerary. Burger's Holiday in Europe (1934) followed a honeymooning couple as they travelled from country to country across the continent; World Tour (1935) followed a group on a cruise ship around the globe; The Empire Sings (1938) explored the sights and sounds of the British Empire, then at it geographic height. Some focused on a single city – Vienna – in the 1935 work City of Music. Other potpourris told the life stories of composers through their own music, as in The Life of Offenbach (1935) and Johann Strauss: A Biography in Music (1936). Burger even wrote one to celebrate the Allied victory in Europe, Victory Rhapsody (1945). Only one offered a journey through time and space: Themes of London (1937)."
Now, with the co-operation of the British Library, it has been possible to piece together recordings cut into 78rpm sides of the original 1937 performance of Burger's Themes of London.
Ryan Hugh Ross sets the scene: "After an introduction by narrator Henrik Ege, the chimes of Big Ben and the Changing of the Guard announce the opening of the potpourri before dipping back into the 17th century with Street Seller cries and the National Anthem. Burger then guides the listener into Baroque London, with the incorporation of themes by Henry Purcell and George Friedrich Handel as well as folk melodies from all parts of the British Isles.
"The piece then segues to the Victorian ballroom as Burger weaves dance music and polkas together before transporting the listener to the Hyde Park bandstand with the incorporation of military marches. Forward again onto Edwardian London with the inclusion of popular period pieces until the work reaches its exciting climax in contemporary 1930s London with popular jazz tunes On your Toes and I'm in a Dancing Mood. What would the contemporary period be without at least an homage to the cinema organ performed by Reginald Foort? The work comes to a peaceful conclusion with an echo of the Westminster chimes as the sun sets over the Thames and God Save the King plays serenely in the background..."
The 1937 BBC broadcast of Julius Burger's Themes of London
The recording features Henrik Ege (narrator), Lorely Dyer and Gwen Catley (sopranos), Derek Oldham (tenor), John Rorke (baritone), Bertha Wilmott (singer/actress), Sam Costa (singer/actor), The Radio Three (girl-harmony group), Reginald Foort (BBC Theatre Organ), Arthur Sandford (piano), the BBC Chorus – Section C, and the BBC Theatre Orchestra conducted by Stanford Robinson. The photo shows a contemporary BBC recording of Edward German's Merrie England, including many of the Themes of London performers.
We played Themes of London to conductor, composer and arranger Tom Higgins, former principal with the ENO Orchestra and the BBC Scottish Radio Orchestra under Iain Sutherland. As an oboist, he also performed as a chamber music soloist for the Scottish Home Service. Later, with the return of Grand Hotel on the national network, he worked with Max Jaffa and took part in recordings of the BBC's Music While You Work sessions towards the end of the programme's life. He conducted BBC Music Magazine's debut recording of Arthur Sullivan's The Rose of Persia which subsequently was reissued by German record company CPO. His recent recordings – including Elgar's rarely-performed Fringes of the Fleet – have been on the SOMM label. Here are Tom's notes:
"Archival recordings tell us much. This one reminds us that its conductor, Stanford Robinson spent his entire working life in the service of the BBC. The reminder is actually two-fold. There is Robinson the conductor and the part he played in shaping the BBC's light music output during its early days, and then my own recollections of briefly working with him much later, by which time his career was coming to an end and mine was just starting.
"But first, Themes of London, the archival recording. Burger's task in this BBC commission was to find suitable music to illustrate London's history during the previous two centuries. It was an hour-long programme, so he was required to do more than just put well-known tunes end-to-end. To give the project continuity he needed to re-fashion other composers' material, giving it mini-symphonic proportions. His expertise as an orchestrator of light music was also suited to then contemporary tastes and his sophisticated style was easily traced back to his Viennese background.
"All that said, Burger was a foreigner in Britain and unlikely to have all the nation's favourite tunes at his finger tips. It was likely then that Robinson, who was part-producer of the project and scheduled to conduct the music, became involved in programme content. As it turned out the BBC Theatre Orchestra was an integral part of the programme and by the late 1930s, Robinson was the ensemble's conductor. Together they were well suited to this light music project.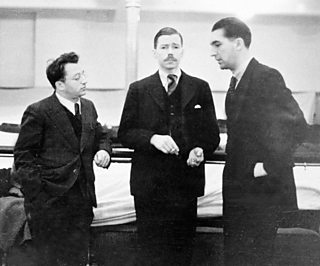 Julius Burger (l) with BBC producer Rex Haworth and Stanford Robinson (r)
"In reviewing Robinson's BBC career, it's clear that he directed an enormous variety of music, yet opera, operetta and light music seemed to hold a particular interest for him. About half-way through the broadcast there is a lengthy section devoted to London's Edwardian music theatre. Edward German's Merrie England and selections from Lionel Monckton's musical comedies feature heavily. By the time of the BBC's 1937 transmission, Robinson had already published, separately, a skilful collection of pieces by Monckton entitled Lionel Monckton Melodies and here the listener to Themes of London may sense Robinson's possible input into the programme.
"Many years later, long after Robinson's official retirement, I had the opportunity to ask him about Lionel Monckton and his publication of the Melodies. At this point in his career, Robinson was appearing as a guest conductor and during my time as principal oboe of the BBC Scottish Radio Orchestra he worked with us briefly in Glasgow. I was keen to talk to him about Monckton, but that required a quiet moment away from the studio.
"Happily Robinson was a well-honed corporation man and soon found his way to the BBC Club across the road from Queen Margaret Drive. Normally the club was full during the early afternoon, but by the time Robinson looked in it was empty – except for me! I quizzed him about Lionel Monckton, explaining that I had bought a copy of his (Robinson's) Melodies years ago. Unfortunately, Robinson was not particularly communicative, but did reveal that as a very young man he had met Monckton. The young man part is important because Monkton died when Robinson was just 19 years old.
"In the studio, Robinson was not a noticeably flamboyant conductor, but then studio sessions don't tend to having anyone to play to in the gallery. And at this point I should mention further that I had worked with Robinson a few years earlier than Glasgow when I was a student. This time he came as a guest to the Guildhall School of Music to conduct the orchestra in Berlioz's Symphonie Fantastique. I played first oboe and, as I was soon to leave Guildhall, plucked up the courage to ask Robinson for a reference.
"If he was not particularly forthcoming on a personal level, he made up for it with the written word, saying that as a student I 'had done very well' and that I was, 'well worthy of consideration in the professional world.'"
All material © BBC